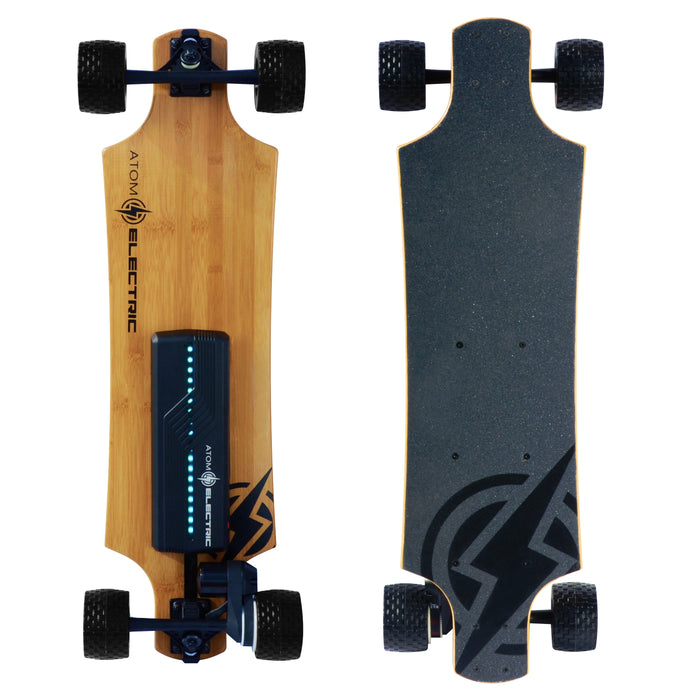 Atom B10x Electric Skateboard and Longboard
Original price
$ 499.95
-
Original price
$ 499.95
Atom B10x Electric Skateboard: Unleash Your Urban Adventure
🔥 Conquer the Streets: The Atom B10x is your ticket to dominating the urban jungle.
🌿 Premium Deck: Crafted from a blend of Bamboo and Maple, it offers both strength and style.
⚡ High-Powered Belt Motor: With a 1000W belt motor, this skateboard propels you to thrilling speeds.
🕹️ Effortless Control: The ergonomic 2.4GHz wireless remote ensures a natural and secure riding experience.
Experience the future of urban transportation with the Atom B10x Electric Skateboard. Engineered for those who crave excitement, this skateboard opens up a world of possibilities for your daily commute or weekend adventures. Whether you're navigating busy city streets or cruising through your favorite spots, the Atom B10x is your trusty companion.
What sets the Atom B10x apart is its exceptional blend of style and substance. The deck, meticulously crafted from a combination of Bamboo and Maple, not only looks stunning but also provides the perfect balance of strength and flexibility for a smooth and comfortable ride.
But the true heart of the Atom B10x lies in its powerful 1000W belt motor. Feel the rush as it propels you to speeds of up to 24 km/h (15 MPH). Whether you're an experienced rider or a beginner, you'll appreciate the board's two-speed modes, allowing you to tailor your ride to your skill level.
Take full control with the ergonomic remote. Its 2.4GHz wireless technology ensures a secure and responsive connection, while its lightweight design feels completely natural in your hand. Accelerate, brake, and switch modes with ease, all at the tip of your thumb.
But there's more to the Atom B10x than just speed. It's equipped with regenerative braking, making descents safer and energy-efficient. Plus, the board's robust construction supports riders up to 125 kg (275 lbs).
Every Atom B10x comes fully assembled and includes essential accessories to kickstart your adventure: a battery charger, ergonomic remote control with a USB charger cord, and a skate tool for any adjustments you might need. With a charge time of just 2 hours, you'll be back on the road in no time.
Designed in China, the Atom B10x adheres to international standards, and its 10S1P battery offers a range of up to 11 km (7 miles) on a single charge. So why wait? Elevate your urban exploration with the Atom B10x Electric Skateboard and embrace the thrill of the ride.