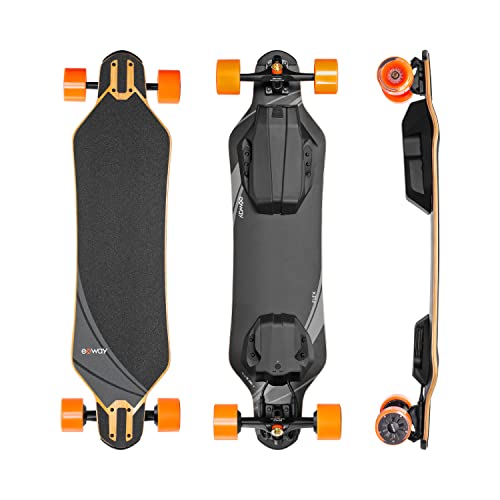 Exway Flex Hub Electric Skateboard with Remote, Top Speed of 25 Mph, 17miles Range, Flexible Tri-Laminate Deck, IP55 Waterproof, Electric Longboard for Adults & Teens
Original price
$ 599.00
-
Original price
$ 599.00
Brand: EXWAY born for freedom
Color: Flex Hub
Features:
FLEXIBLE DECK FOR ELECTRIFYING RIDES – Our Exway Flex electric skateboards combine classic design with modern high-tech construction to deliver a thrilling ride. Crafted with fiberglass layers wrapped around a bamboo core, the deck offers the perfect balance of flexibility and stability for maximum comfort and control.
UNMATCHED RIDE QUALITY – The Exway Flex longboard skateboard is the ultimate board for riders of all levels. With an upgraded ESC and optimized deck design, it delivers a top speed of 28 mph and an impressive range of 17 miles. You'll love the smooth, effortless ride that the Flex provides, thanks to its carefully crafted design and fine-tuned performance.
ATTENTION TO DETAIL – We believe that it's the little things that make a big difference, which is why we've paid close attention to every detail of the Flex electric surfboard. From the vibration-damping grip tape to the shock-absorbing risers and high-rebound urethane wheels, every component has been carefully chosen to elevate the ride's comfort and performance to new levels.
CUSTOMIZE YOUR RIDE WITH OUR MOBILE APP – Our advanced mobile app lets you tune your Flex electric skateboard longboard for a personalized ride experience. With features like acceleration curves and cruise control, you can explore new ways to ride and enjoy the ultimate level of control and comfort.
360-DAY WARRANTY AND EXCEPTIONAL CUSTOMER SUPPORT — The warranty starts on the date that the board is received and is valid for 12 months for this longboards skateboard electric. Your views on the product are valuable to us, if you have any views on product improvement or dissatisfaction, please feel free to contact us. The customer must provide valid proof of purchase for warranty coverage.
model number: FIR
Details: 🛹 Introducing the Exway Flex - the ultimate electric skateboard designed for the city streets and beyond! 🌆💨 🛹Product Specifications Top Speed: 40kph/25mph Battery Capacity: 216Wh Range:17miles/27km Drivetrain: Hub V3 Deck: Flexy composite Bamboo, maple, fiberglass Deck Size: 940x294x140mm Weight: 7.7kg/17.0lbs Peak Output Power: 1512W Standard Charger Wattage: 51V Warranty: 12 months Trucks: Trist 8"RKP (Forged+CNC) Remote: R2 Bluetooth: 4.0 App: Exway Wheels: 85*56mm 76A Charging Time: 3.6H Standard Charger: 75W Standard Charger Suitable Wheel Size: 80~120mm Max Load: 180kg/400lbs Hills: 30% In the box: Exway Flex Electric Skateboard, Remote, USB Cable, Charger, Accessory Bag, Manual 💯 Whether you're an experienced skateboarder or just looking for a fun and eco-friendly way to get around town, the Exway Flex is the perfect choice. With its advanced features, sleek design, and unbeatable performance, this electric skateboard is sure to impress! 😎 🛒 So why wait? Order your Exway Flex today and experience the ultimate ride! 🤙 ExwayBoard provides global 24/7 English and Chinese support. A 12-month warranty covers parts replacement, software/hardware upgrades, and repair services. Exway ensures an enjoyable riding experience throughout your journey together.
EAN: 0717162061007
Package Dimensions: 40.5 x 14.0 x 6.5 inches