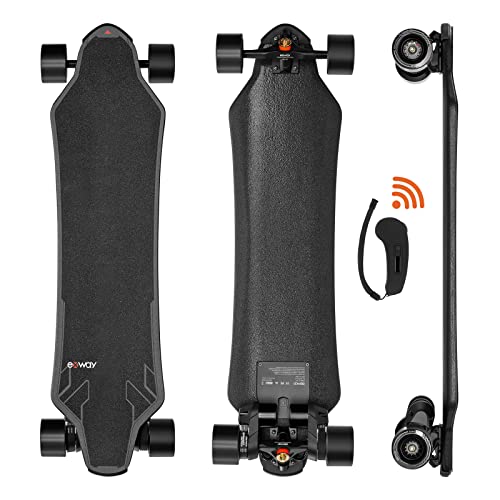 EXWAY X1 Max Belt Electric Skateboard with Remote, 28 Mph Top Speed & 18 Miles Range, 440 LBS Max Load, Stealth Deck Design, IP55 Waterproof, Electric Longboard for Adults &Teens Beginners
Original price
$ 649.00
-
Original price
$ 649.00
Brand: EXWAY
Color: X1 Max-Belt
Features:
MORE POWERFUL E-SKATEBOARD --The Exway X1 Max electric longboard is designed to present the future shape of electric skateboards. Despite the small footprint and relatively lightweight, the X series boards boast incredibly Strong Performance, maximum speed is 45kph/28mph enough to climb a 30% steep hill and the maximum range is 30km/18 miles, to adapt to different situations like campus commuting, hanging out with friends, or riding inside the city.
INTEGRATED DECK DESIGN --Despite the limited space within the deck, we increased the battery capacity by a further 20%, electric skateboard is equipped with a 230W battery, so you can focus on having fun. The skateboards electric uses an integrated deck design, the components are inside the deck and the deck also uses our shock-absorbing grip tape. Therefore the ride is exceptionally comfortable even over bad terrain and road surfaces.
ENERGY RECOVERY SYSTEM --The electric skateboards longboard is equipped with an energy recovery system similar to the one found in automobiles. If the brake is applied when riding, the system will automatically initiate the energy recovery process, converting kinetic energy into electrical energy for storage and reuse. This regenerative braking system also enhances the rider's experience when emergency braking, is safer. Bring ladies, youth, and beginners a good skateboarding experience
UPGRADED PROTECTION STRUCTURE --The surface of the skateboard is coated with anti-scratch material providing the board superior protection against wear and tear. The board's coating also makes it extremely easy to clean, helping to keep it in pristine condition for years to come. The water resistance of the skateboard is IP55, which is resistant to splashes and dust under normal conditions.
MOBILE APP SUPPORT --The board is equipped with ESC 2.0. Tune your X1 Max for a personalized ride experience with our advanced mobile app. From acceleration curves to special ride modes like cruise control, discover new ways to ride your X1 Max every day.
AFTER-SALES SERVICE --The warranty starts on the date that the board is received and is valid for 6 months for this professional electric skateboard. Your views on the product are valuable to us, if you have any views on product improvement or dissatisfaction, please feel free to contact us. we will be available 24/7/365 for customer services online. The customer must provide valid proof of purchase for warranty coverage.
model number: X1 Max RT
Package Dimensions: 33.1 x 13.6 x 7.1 inches