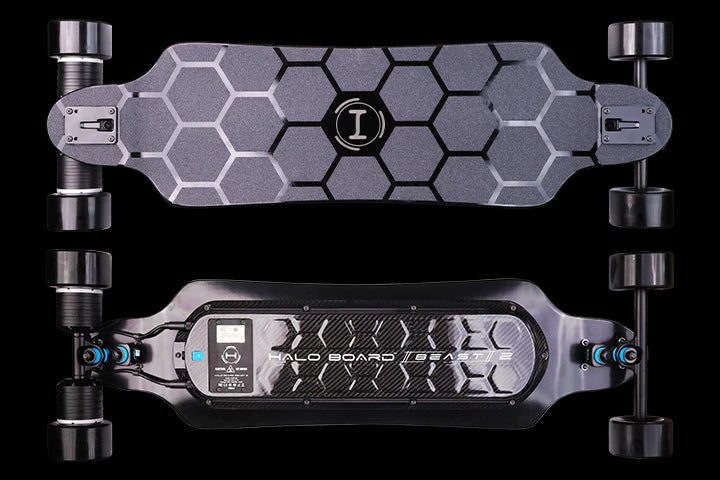 Halo Board Beast Gen 2 Electric Skateboard and Longboard
Original price
$ 1,197.00
-
Original price
$ 1,197.00
Halo Board Beast Gen 2: Unleash Your Urban Adventure
🔥 Conquer the Streets: Whether it's the daily commute or weekend cruising, the Halo Board Beast Gen 2 is your ultimate urban companion.
🌿 Premium Bamboo Blend Deck: Crafted from an upgraded bamboo and fiberglass blend, enjoy the perfect balance of flexibility and strength.
⚡ Dual Direct Drive Motors: With two powerful 1600W motors, this skateboard delivers unmatched acceleration and speed.
🔀 Effortless Maneuvering: Navigate the cityscape with ease using the ergonomic Bluetooth Halo Remote.
Experience the future of urban mobility with the Halo Board Beast Gen 2 - a masterpiece designed for riders who crave excitement and convenience. This electric skateboard redefines urban commuting, making every journey an adventure.
The Beast Gen 2's upgraded deck, a fusion of bamboo and fiberglass, not only provides a smooth ride but also offers the durability needed to withstand the demands of urban terrain. Whether you're zipping through crowded streets or carving your path along the boardwalk, the Halo Street Wheels ensure a comfortable and stable ride.
What truly sets the Beast Gen 2 apart is its formidable power. With dual 1600W direct drive motors, you'll accelerate swiftly and reach a top speed of 41 km/h, effortlessly outpacing traffic. The 25% hill climbing capability ensures you conquer inclines with ease, while regenerative braking not only enhances safety but also extends your ride.
Control is at your fingertips with the ergonomic Bluetooth Halo Remote, allowing you to accelerate, brake, and switch between ride modes effortlessly. The MEEPO Custom LY-FOC 55B ESC guarantees a smooth and responsive ride, making the Beast Gen 2 perfect for riders of all levels.
Your urban adventure begins as soon as you unbox your Halo Board Beast Gen 2. Each package includes a power adapter, charger, and all the essentials you need to get started. With a standard charging time of 4-5 hours, you'll be back on the road in no time.
Join the revolution in urban transportation and elevate your daily commute. Unleash the power of the Halo Board Beast Gen 2 and ride the future today.