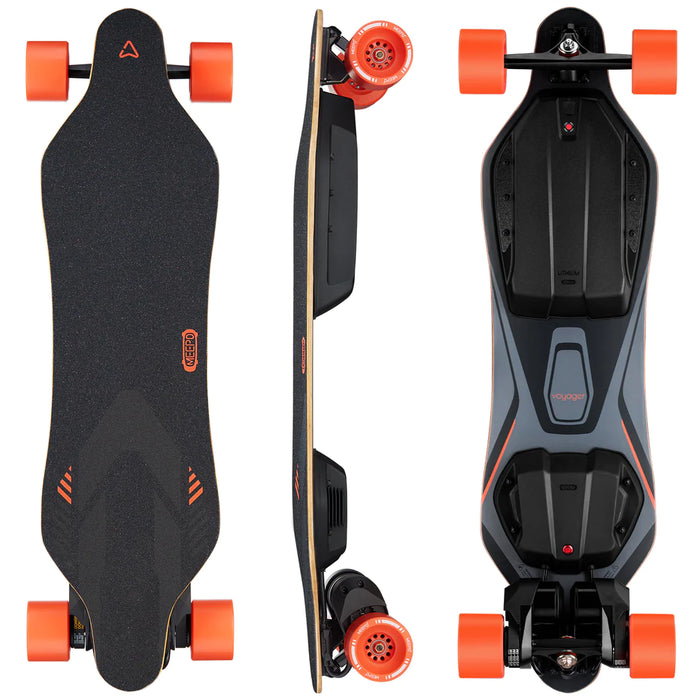 Meepo Voyager Electric Skateboard and Longboard
Original price
$ 999.00
-
Original price
$ 999.00
Meepo Voyager Electric Skateboard: Unleash Your Thrill
🔥 Electrify Your Ride: Whether you're cruising city streets or chasing adventure, the Meepo Voyager delivers an electrifying experience like no other.
🌿 Premium Deck: Crafted from a blend of 2-ply Bamboo and 2-ply fiberglass cloth, the Voyager's deck offers the perfect mix of flexibility and durability.
⚡ Dual Belt Motors: Equipped with two 2772W belt-driven motors, this skateboard delivers heart-pounding acceleration and exhilarating top speeds.
🔄 Versatile Riding: Easily switch between riding modes and conquer any terrain with confidence.
The future of skateboarding is here, and it's called the Meepo Voyager Electric Skateboard. Designed for thrill-seekers who demand nothing but the best, this skateboard redefines your riding experience. Whether you crave the excitement of the city streets or the thrill of uncharted paths, the Voyager is your ticket to endless adventure.
But the Meepo Voyager offers more than just an incredible ride. Its wireless controller, powered by 2.4G technology, gives you complete control at your fingertips. Accelerate, brake, and switch between riding modes with ease, all while enjoying the confidence of regenerative braking, making your descents safer and more energy-efficient.
Unboxing your Meepo Voyager is like unwrapping pure excitement. Inside the box, you'll find everything you need to elevate your skateboarding journey: a power-packed user manual, a T-tool for adjustments, a lightning-fast 4.5A charger, Cyclone 105mm Wheels set for ultimate traction, and two pulleys with belts for customization. Plus, choose between the M4S or M5S remote to suit your preferences.
Manufactured in state-of-the-art facilities in the US and China, the Meepo Voyager boasts a standard IP rating of 54, ensuring it can handle unexpected splashes. The skateboard runs on a 12S3P battery, providing you with a remarkable range of 49 kilometers (31 miles) on a single charge. And with a quick charging time of just 3 hours, you'll spend less time waiting and more time riding.
Elevate your skateboarding game and embrace the future of riding with the Meepo Voyager Electric Skateboard. Get ready to unleash your thrill, push your boundaries, and conquer the streets with unmatched style and performance.