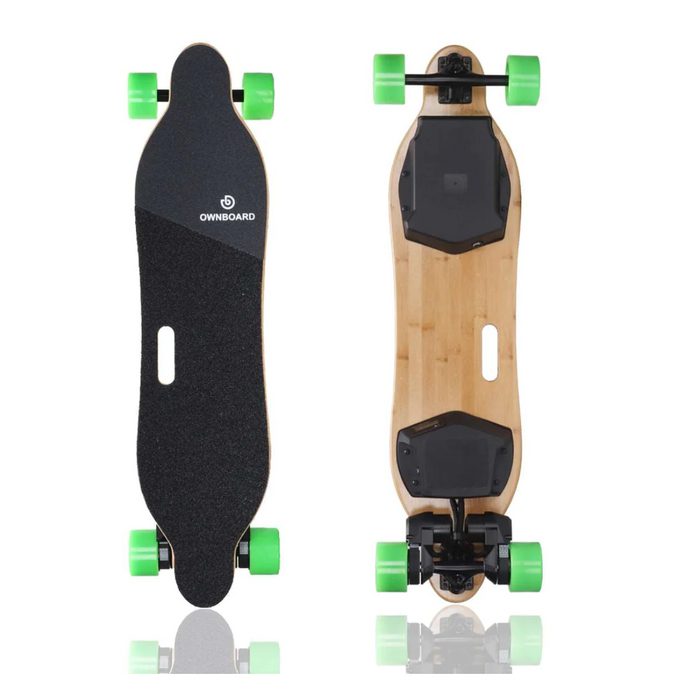 Ownboard W2 Electric Skateboard and Longboard
Save

19

%
Save

19

%
Original price
$ 629.00
-
Original price
$ 629.00
Ownboard W2 Electric Skateboard: Rule the Streets in Style
🚀 Unleash Your Speed: The Ownboard W2 is designed for the urban thrill-seeker, conquering city streets with ease.
🌿 Bamboo Flex Deck: Crafted from a blend of fiberglass and bamboo, this deck offers the perfect mix of flexibility and durability.
⚙️ Dual Belt Motors: Powered by twin 650W belt-driven motors, the W2 takes you to a top speed of 45 km/h (28 mph) in a flash.
🔄 Versatile Wheel Options: Switch between 83*52mm Green PU-wheels for agility and 90*62mm Black offset PU-wheels for stability.
Experience the future of urban commuting with the Ownboard W2 Electric Skateboard. This board is not just a means of transportation; it's a lifestyle statement. Designed for the street-savvy individual, it redefines the way you navigate the city.
The deck, meticulously crafted from a fusion of fiberglass and bamboo, offers an unbeatable blend of flex and strength. Glide over uneven pavements and conquer curbs effortlessly. With a length of 38 inches and dimensions measuring 38 * 9.05 inches, this board strikes the perfect balance between portability and stability.
Powered by dual 650W belt-driven motors, the W2 is a true speed demon. It propels you to a thrilling top speed of 45 km/h (28 mph), ensuring you'll be first to your destination. The versatile wheel options allow you to tailor your ride, whether it's for nimble maneuvering or high-speed stability.
But the Ownboard W2 isn't just about speed; it's about control. The intuitive OLED remote with a USB charging cable puts command at your fingertips. Choose from three speed modes to match your skill level or mood.
For those concerned about sustainability, the W2 features regenerative braking. Not only do you get a safer descent on declines, but you also contribute to energy conservation.
Every Ownboard W2 comes complete with everything you need to embark on your urban adventure. Inside the box, you'll find: 1 x Completely assembled eBoard 1 x OLED Remote with USB charging cable 1 x Extra Foam for deck customization 1 x Certified charger 1 x DC port charger adapter (US, AU, or EU plug, based on your location) 1 x T-tool 1 x Rear LED light 1 x User manual 1 x Dash-proof rubber 1 x Extra belt 1 x Extra 2pcs*Kegel Pulley 1 x Extra black grip tape
The Ownboard W2 is engineered in China, where innovation meets craftsmanship. It's not just a skateboard; it's a testament to cutting-edge design and performance.
Don't let weather concerns hold you back. While it's not fully waterproof, the W2 can handle a few raindrops, ensuring you stay on the move. Plus, with its app-enabled features, you can fine-tune your riding experience and monitor essential stats.
With a range of up to 45 km (28 miles) and a quick charge time, the Ownboard W2 ensures you spend more time riding and less time waiting. So, why wait? Elevate your urban commute and embrace the future with the Ownboard W2 Electric Skateboard.