BOARD BLAZERS INSTRUCTION MANUAL
Hey,
David here. I'm the owner and founder of Board Blazers. Before you get started installing your kit, I wanted to say just how much I appreciate your purchase. During testing, I went snowboarding across multiple resorts on the East Coast. At every single one, I got asked "Where did you get those?!" For me, they've transformed snowboarding at night and I hope they do the same for you. I assemble all of these kits by hand so if you need anything, just reach out. 
I look forward to seeing pictures of your sets in use!


Sincerely,
David
2 LED Strips (each 3 feet long)
2 waterproof power supplies
3M Adhesive to attach to your board
Light Output: 1320 lumens
Viewing Angle: 120 degrees
Battery Life: 6 - 8 hours

6 x AA Batteries 
(3 batteries required per strip)
Screwdriver
(Required if uninstalling bindings)
Notes before Installation
Make sure your snowboard is dry before installation.
Place batteries into the battery pack and test each strip before installation. Once installed, this kit is difficult to remove.
To place the lights appropriately, you may have to take off your bindings, install the Snowboard Lights, and then reattach your bindings. This can be done using a screwdriver.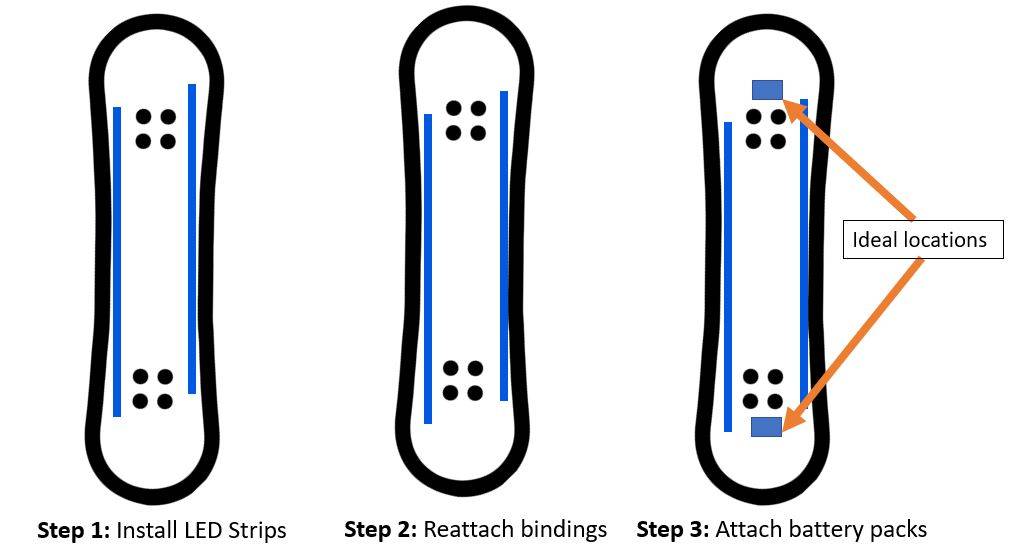 Place the Snowboard Lights and battery packs approximately 1 inch away from the edge of your board. The
Snowboard Lights should be placed in straight lines
down your board. The adhesive will not function correctly if they are curved.
Once you are happy with your layout, peel off the adhesive backing for the LED Strips. Press HARD into the board for 2 full minutes.
Let the LED Strips rest for 30 - 45 minutes before reattaching your bindings.
After reattaching your bindings, peel off the adhesive backing from the battery pack and press hard into the board for 2 full minutes.
IMPORTANT - Let the adhesive rest for 24 hours before going snowboarding! Failure to do this may result in the LED strips detaching from your board
Need to Remove? REMOVAL INSTRUCTIONS
If you need to remove your Snowboard Light Kit, start by using a hairdryer to heat up the adhesive. As it heats up, peel back the LED strip detaching it from your board. Repeat this process for the battery packs. After everything has been removed, use a damp towel to remove any final traces of adhesive on your board. For stubborn spots of adhesive, you can use rubbing alcohol as well.
IMPORTANT - Snowboard Light Kits are designed to stay on your board. If you remove your Snowboard Light Kit after installation, it will not stick to your board again.
SEND US PICTURES/VIDEOS & WE'LL PAY YOU!
If you send us a picture of your snowboard decked out in our Board Blazers Snowboard Light Kit,
we will send you $10 over PayPal!
Send your pictures to contactus@boardblazers.com to receive your prize!
Want to take a video of you riding with your lights? We will send you $30 within 24 hours!