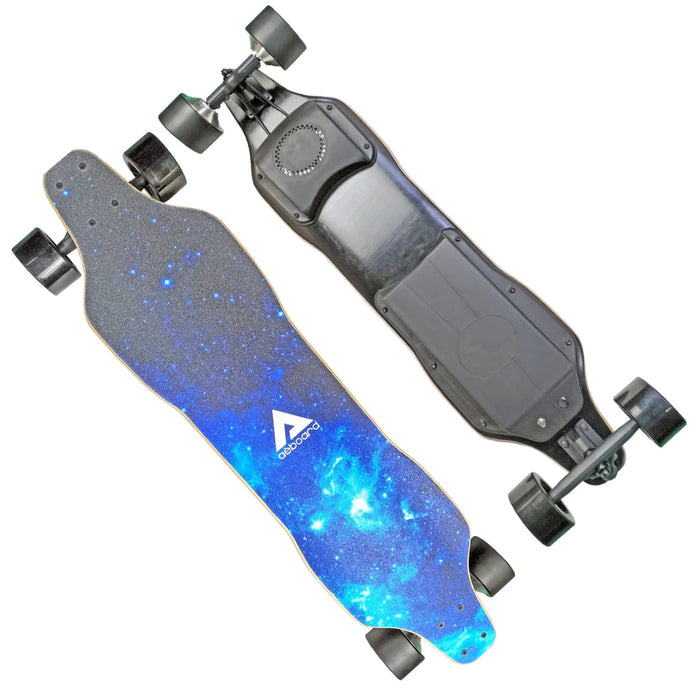 AEBoard AE2 Electric Skateboard and Longboard
Original price
$ 0.00
-
Original price
$ 659.99
AEboard Electric Skateboard AE2: Street Riding Redefined
🛹 Street Specialist: Designed exclusively for urban terrains, the AEboard AE2 is your ticket to city cruising.
🌲 Premium Deck: Made from 8-ply Canadian Maple, it promises durability and a seamless glide.
⚡ Dynamic Hub Motors: Equipped with 2 x 500W motors, the AE2 delivers unmatched speed and power.
🎚️ Intuitive Control: A wireless 2.4G controller ensures precision in every move, from acceleration to braking.
Discover the epitome of urban skateboarding with the AEboard Electric Skateboard AE2. Tailored for the city streets, the AE2 is a fusion of style, power, and functionality. Its sleek design, combined with a robust 8-ply Canadian Maple deck, ensures you not only ride in style but also with unmatched stability.
Speed is at the heart of the AE2. With a top speed of 29 MPH, powered by its potent hub motors, you're set for a thrilling ride every time. The wireless 2.4G controller is a marvel in itself. From its thumb wheel accelerator to its 3-speed mode selection, every feature is designed for optimal performance. The LED indicators keep you informed about speed, direction, battery level, and more, ensuring you're always in control.
But the AE2 isn't just about the ride. Its Sinusoidal Wave Drive, combined with a built-in Hall Sensor, guarantees smooth acceleration and braking. And with the integrated 2.4G antenna in the ESC, you never have to worry about signal issues. Each AEboard AE2 package comes complete with a power adapter, charger, wireless remote with USB cable, and a multi-functional T wrench. Crafted with precision in the US and China, the AE2 is your perfect companion for urban adventures.
So, are you ready to redefine street skateboarding? Dive into the future with the AEboard Electric Skateboard AE2.