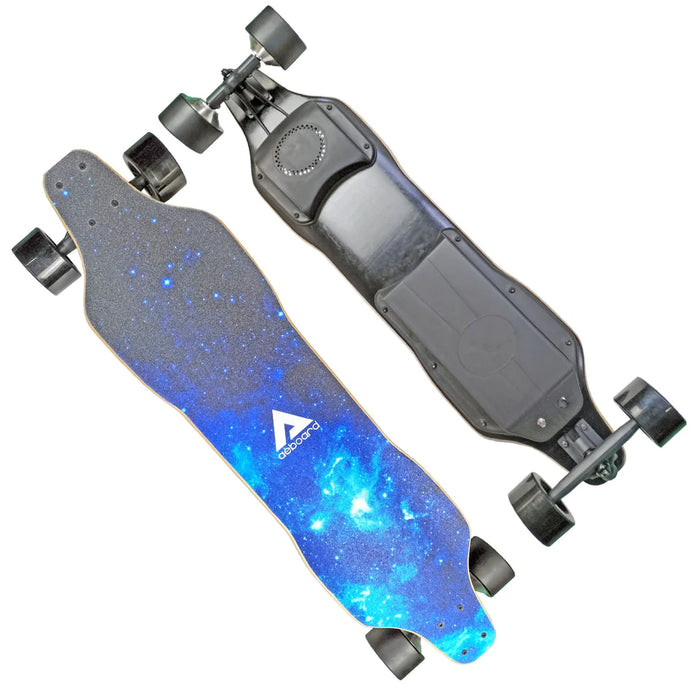 AEBoard AE4 Electric Skateboard and Longboard
Original price
$ 399.99
-
Original price
$ 689.99
AEboard Electric Skateboard AE4: The Ultimate Street Cruiser
🔥 Street Riding Excellence: Designed specifically for urban environments, the AEboard AE4 lets you glide through city streets with unmatched ease.
🌲 Premium Deck Construction: Made from 8-ply Canadian Maple, ensuring a long-lasting board with a comfortable ride.
⚡ Dynamic Dual Hub Motors: Equipped with 2 x 500W motors, the AE4 delivers power and speed whenever you need it.
🚀 High-Speed Performance: Reach speeds up to 29 MPH, making your commutes faster and more thrilling.
Experience the pinnacle of urban skateboarding with the AEboard Electric Skateboard AE4. This board is not just about getting from point A to B; it's about enjoying every second of the journey. Tailored for the city rider, the AE4 is your perfect companion for daily commutes, leisurely rides, or adrenaline-pumping sprints.
Control is at your fingertips with the wireless 2.4G remote, ensuring smooth acceleration and braking. The advanced ESC, combined with a Sinusoidal Wave Drive and Hall Sensor, guarantees a seamless ride, while the integrated 2.4G antenna ensures uninterrupted communication between the board and the remote. Safety is also paramount, with regenerative braking allowing for controlled descents and energy conservation.
Every AEboard AE4 package comes complete with a ready-to-ride skateboard, power adapter, charger, wireless screen remote with USB cable, data detection cable, and a versatile T wrench. Crafted with precision in China, the AE4 is a testament to AEboard's commitment to quality and innovation. While it's not waterproof, its robust build ensures durability for countless rides. So, why settle for ordinary when you can ride extraordinary with the AEboard Electric Skateboard AE4?