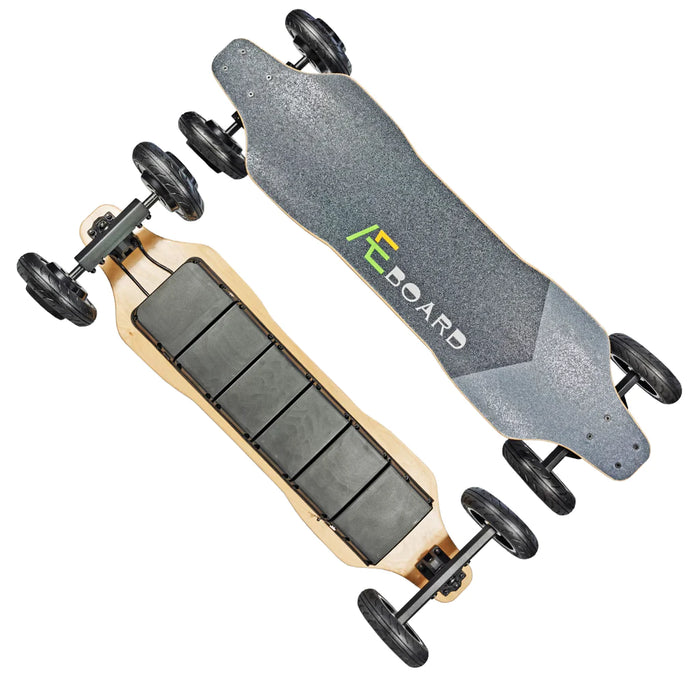 AEBoard AT2 Electric Skateboard and Longoard
Original price
$ 599.99
-
Original price
$ 979.99
AEboard Electric Skateboard AT2: Conquer Any Terrain
🔥 All-Terrain Mastery: Whether it's city streets or off-road trails, the AEboard AT2 has got you covered.
🌲 High-Quality Deck: Crafted from 8-ply Canadian Maple, ensuring durability and a smooth ride.
⚡ Powerful Dual Motors: With 2 x 360W motors, this skateboard is ready to take on any challenge.
🔄 Switch with Ease: Transition effortlessly between off-road and highway wheels.
The future of skateboarding is here, and it's more exhilarating than ever. Introducing the AEboard Electric Skateboard AT2 - the ultimate blend of power, design, and versatility. Made for those who refuse to settle, this skateboard is built to conquer all terrains, ensuring your adventures are limitless. Whether it's the rugged off-road trails or the smooth city streets, the AEboard AT2 ensures a ride like no other.
But it doesn't just end with the ride. The skateboard's wireless 2.4G controller offers unmatched performance, allowing you to accelerate, brake, and switch modes with the tip of your thumb. Plus, with its regenerative braking, not only do you get a safer descent on declines, but you also conserve energy - taking sustainability up a notch.
Each AEboard AT2 comes with everything you need to start your journey - a power adapter, charger, wireless remote, and a multi-functional T wrench. So why wait? Elevate your skateboarding experience and ride the future with the AEboard Electric Skateboard AT2.