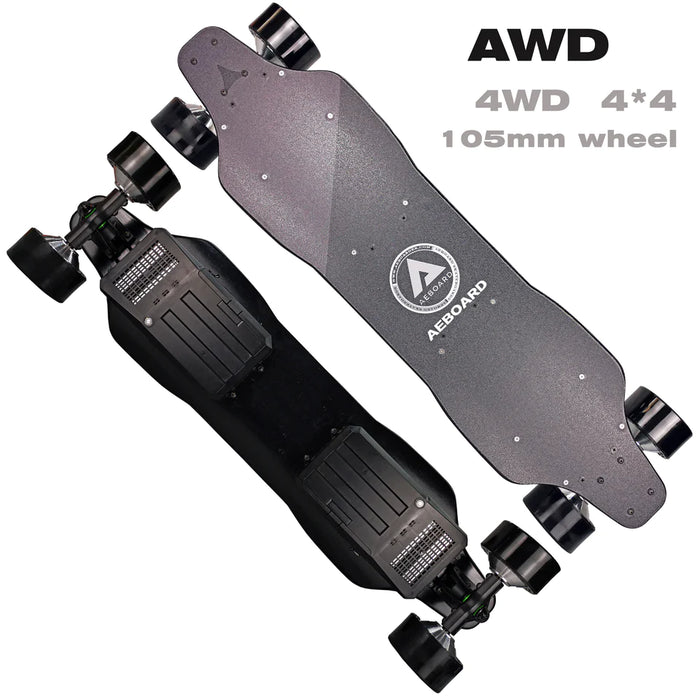 AEBoard AWD Electric Skateboard and Electric Longboard
Original price
$ 799.99
-
Original price
$ 799.99
AEboard Electric Skateboard AWD: Street Riding Redefined
🔥 Street Riding Excellence: Specifically designed for urban environments, the AEboard AWD dominates every street corner.
🌲 Premium Deck Material: Made from 8-ply Canadian Maple, it promises durability and a seamless ride.
⚡ Unmatched Motor Power: Equipped with 2 x 800W hub motors, experience unparalleled speed and torque.
🎡 Superior Wheel Design: 105mm 76A wheels ensure a smooth and stable ride, even at top speeds.
Experience the pinnacle of electric skateboarding with the AEboard Electric Skateboard AWD. Tailored for those who crave speed and precision, this skateboard is the epitome of urban mobility. Whether you're weaving through traffic or cruising down long stretches, the AEboard AWD promises a ride that's both thrilling and safe.
Control is right at your fingertips with the advanced 2.4Ghz remote. It boasts 4 ride modes, 4 braking modes, and indicators for speed, distance traveled, and battery levels for both the board and the remote. With a top speed of 31 MPH and the ability to handle inclines of up to 35%, this skateboard is not for the faint-hearted. And with regenerative braking, you're not just getting a safer ride; you're also ensuring optimal battery usage.
Every AEboard AWD package comes complete with a standard power adapter, charger, and a state-of-the-art remote control. Manufactured in China and crafted with precision, it's a testament to superior engineering and design. While it's not waterproof, its robust build ensures longevity. With a range of 15.53 miles on a single charge and a quick 2-hour charging time, your adventures are bound to be endless.
So, are you ready to redefine street riding? Choose AEboard Electric Skateboard AWD and embrace the future of urban transportation.