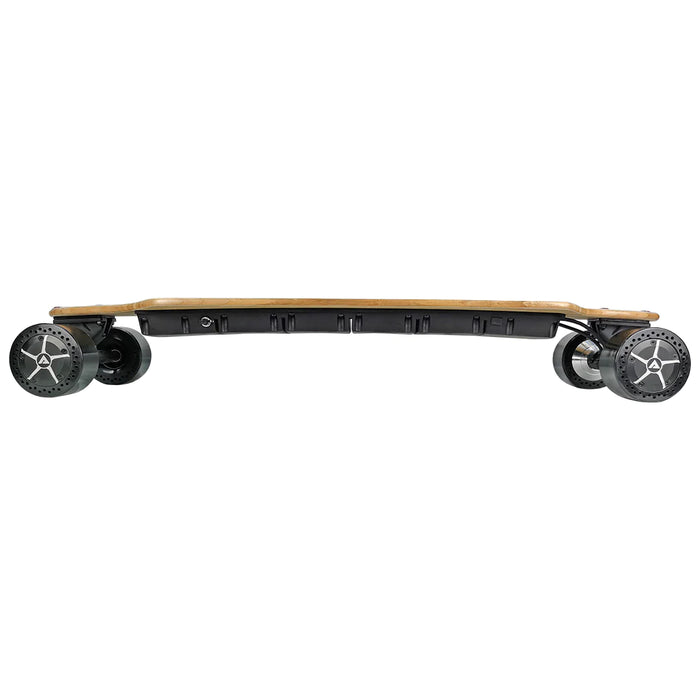 AEBoard AX Plus Electric Skateboard and Longboard
Original price
$ 559.99
-
Original price
$ 999.99
AEboard Electric Skateboard AX Plus: Street Riding Redefined
🔥 Street Riding Excellence: Designed specifically for urban environments, the AEboard AX Plus is your perfect street companion.
🌲 Premium Deck Construction: Made from 3 layers of Bamboo combined with 2 layers of Glass fiber, ensuring a resilient and responsive ride.
⚡ Dual Motor Powerhouse: Equipped with 2 x 650W motors, the AX Plus delivers unmatched speed and performance.
🚀 Blazing Fast: Reach speeds of up to 50 km/h, making city commuting a breeze.
Experience street skateboarding like never before with the AEboard Electric Skateboard AX Plus. This board is not just about getting from point A to B; it's about enjoying every second of the journey. Crafted for the urban rider, the AX Plus is built with a unique deck combination of Bamboo and Glass fiber, ensuring durability while maintaining a lightweight profile.
With its powerful dual motors, you can zip through city streets at impressive speeds, and with the Smooth Control Remote, you have complete control over your ride. Choose from 3 different ride modes to suit your style and skill level. And for those steep city inclines? The AX Plus boasts a 35% climb rate, ensuring no hill is too challenging. Safety is also paramount, with the board featuring regenerative braking, allowing for controlled descents and energy conservation.
Every AEboard AX Plus comes with a Smooth Control Remote, ensuring you're ready to hit the streets right out of the box. Manufactured in China with precision and care, this board is a testament to quality and performance. While it's designed for the streets, it's essential to note that the AX Plus is not waterproof, so always be cautious in wet conditions. Ready to redefine your street riding experience? Choose AEboard Electric Skateboard AX Plus.