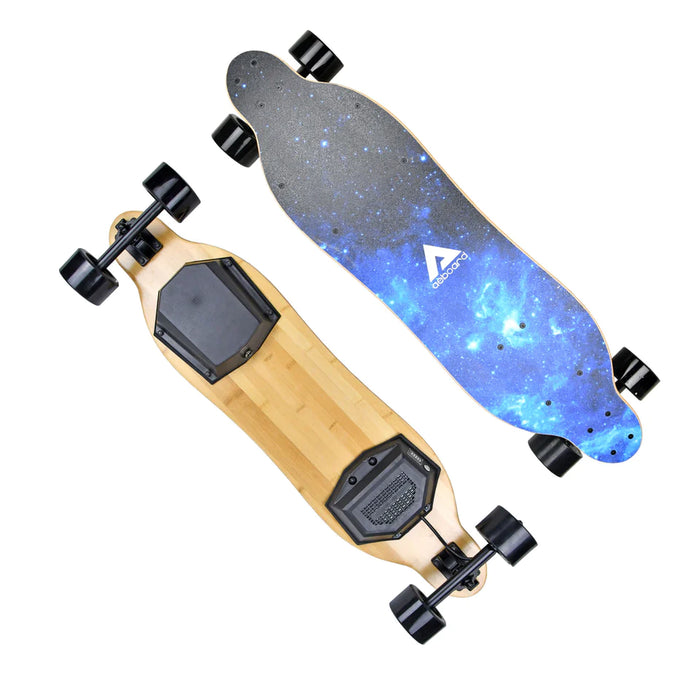 AEBoard G5 Electric Skateboard and Longboard
Original price
$ 289.99
-
Original price
$ 289.99
AEboard Electric Skateboard G5: Glide Through the Streets
🔥 Street Riding Excellence: Designed specifically for urban environments, the AEboard G5 lets you cruise city streets with style and ease.
🌲 Premium Deck Construction: Made from 8-ply Canadian Maple, ensuring a long-lasting and comfortable ride.
⚡ Dynamic Motor Power: Equipped with a 500W motor, the G5 delivers the speed and power you crave.
🔍 Precision Control: With a 2.4ghz remote featuring 4 ride modes, 4 braking modes, and real-time indicators, you're always in command.
Experience the thrill of urban skateboarding like never before with the AEboard Electric Skateboard G5. This skateboard is the epitome of performance and design, tailored for those who love the city rush. Whether you're commuting to work, cruising with friends, or just exploring the city, the G5 promises a ride that's smooth, powerful, and utterly enjoyable.
But the G5 isn't just about the ride. Its advanced remote control offers a plethora of features - from selecting your ride mode to monitoring your speed, distance traveled, and battery levels. And with regenerative braking, you're not just getting a safer ride; you're also promoting energy efficiency. Every AEboard G5 package comes complete with a power adapter, charger, wireless remote, and a multi-functional T wrench, ensuring you're ready to hit the streets right out of the box. Crafted with precision in both the US and China, this skateboard might just be your perfect urban companion. Dive into the future of city skateboarding with the AEboard Electric Skateboard G5.
Note: While the G5 boasts many advanced features, it's essential to note that it is not waterproof. Always ensure you ride in dry conditions for safety and to maintain the board's longevity.