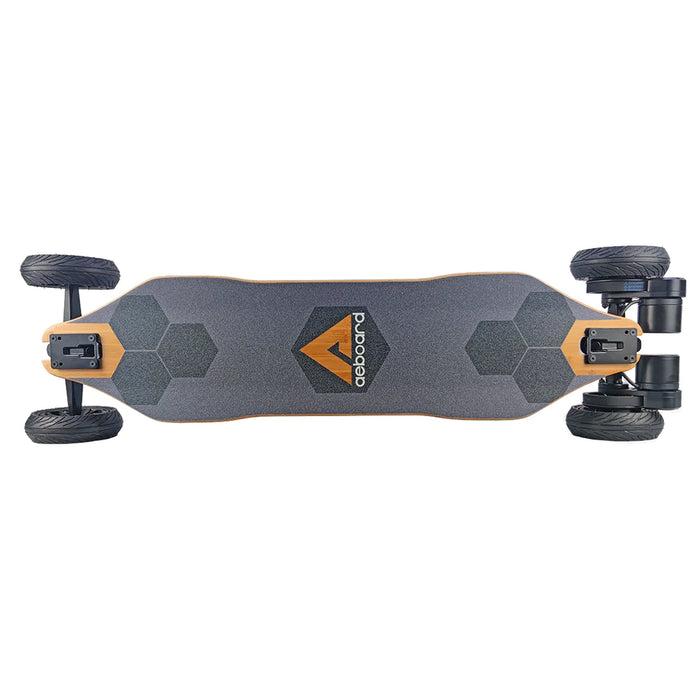 AEBoard GTR Electric Skateboard and Longboard
Original price
$ 1,099.00
-
Original price
$ 1,199.00
AEboard Electric Skateboard GTR: The Ultimate All-Terrain Experience
🔥 Terrain Dominance: From city streets to rugged trails, the AEboard GTR is your all-terrain champion.
🌲 Premium Deck Quality: Made from 8-ply Canadian Maple, ensuring a durable and responsive ride.
⚡ Double the Power: Equipped with 2 x 800W hub motors, the GTR delivers unmatched speed and torque.
🚀 Speed Demon: Reach exhilarating speeds of up to 30 MPH, making every ride an adrenaline rush.
Experience the pinnacle of electric skateboarding with the AEboard Electric Skateboard GTR. Designed for those who demand the best, the GTR is a testament to power, agility, and craftsmanship. Whether you're cruising through the city or venturing off the beaten path, this skateboard ensures a ride that's smooth, powerful, and unforgettable.
Control is at your fingertips with the Smooth Control Remote, allowing you to seamlessly switch between three ride modes tailored to your style. The 10-inch front and back double kingpin trucks offer superior maneuverability, ensuring you carve and turn with precision. Safety is paramount, and with the regenerative braking system, you not only get efficient braking but also energy conservation, making every ride eco-friendly.
Every AEboard GTR is powered by a 12S high voltage and high-efficiency electronic system, ensuring reliability and peak performance. And while the adventures are limitless, you can ride with confidence knowing your board is backed by AEboard's commitment to quality, crafted in their state-of-the-art facility in China.
Although the GTR is not waterproof, its robust design ensures it can handle the challenges of daily rides. Ready to redefine your skateboarding experience? The AEboard Electric Skateboard GTR is here to elevate every journey.