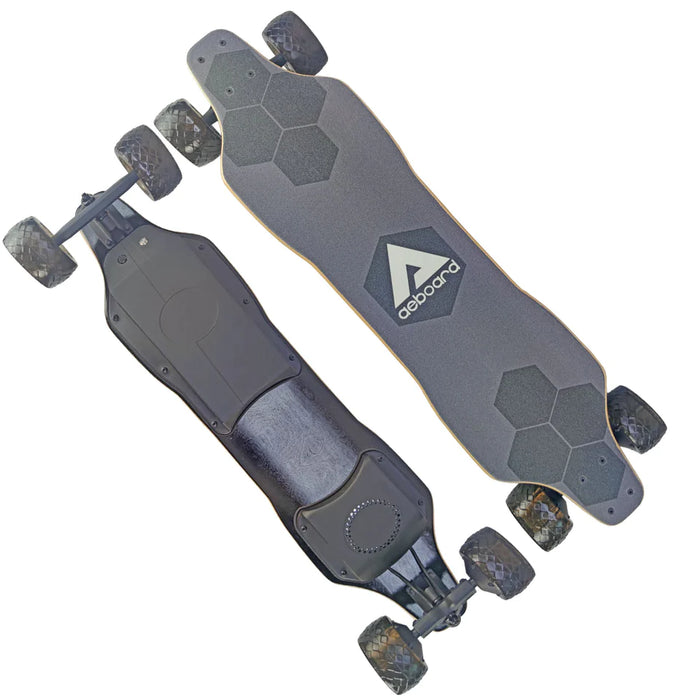 AEBoard Nova Electric Skateboard and Longboard
Original price
$ 499.99
-
Original price
$ 499.99
AEboard Nova Electric Skateboard: The Ultimate Street Cruiser
🔥 Street Riding Excellence: Designed specifically for urban environments, the AEboard Nova dominates city streets with style.
🌲 Premium Deck Construction: A fusion of Bamboo and Canadian Maple makes for a 38"" deck that's both durable and flexible.
⚡ Dynamic Dual Hub Motors: Powered by 2 x 800W motors, the Nova promises speed and agility in every ride.
🚀 Speed Demon: Reach exhilarating speeds of up to 29.5 MPH, ensuring you're always ahead of the curve.
Experience the thrill of urban skateboarding like never before with the AEboard Nova Electric Skateboard. Tailored for the city dweller, the Nova is the epitome of street riding finesse. Its deck, a harmonious blend of Bamboo and Canadian Maple, offers the perfect balance between strength and flexibility, ensuring a ride that's both smooth and responsive.
But the Nova isn't just about looks and feel. Its dual hub motors, boasting a combined power of 1600W, let you cruise at speeds of up to 29.5 MPH. And with a maximum weight capacity of 330 lbs, it's built to accommodate riders of all sizes. The skateboard's state-of-the-art LCD screen remote control provides real-time data and allows seamless switching between its 4 ride modes. And with the latest Hobbywing ESC, you're guaranteed a ride that's as smooth as it is thrilling.
Despite its power, the Nova is surprisingly lightweight, weighing in at just 16.3 lbs. Its regenerative braking system not only ensures safety but also promotes energy conservation. And while it's not waterproof, its robust build ensures it can handle the occasional splash. Each AEboard Nova comes equipped with a standard 12S3P battery, promising a range that keeps you on the move. And when it's time to recharge, you're back on the road in just 3.5 hours.
Every AEboard Nova package includes the skateboard, a smooth LCD screen control remote, and the latest Hobbywing ESC. Crafted with precision in China, the Nova is a testament to AEboard's commitment to quality and innovation. So, if you're looking to redefine your street skateboarding experience, the AEboard Nova Electric Skateboard is your ride to the future.