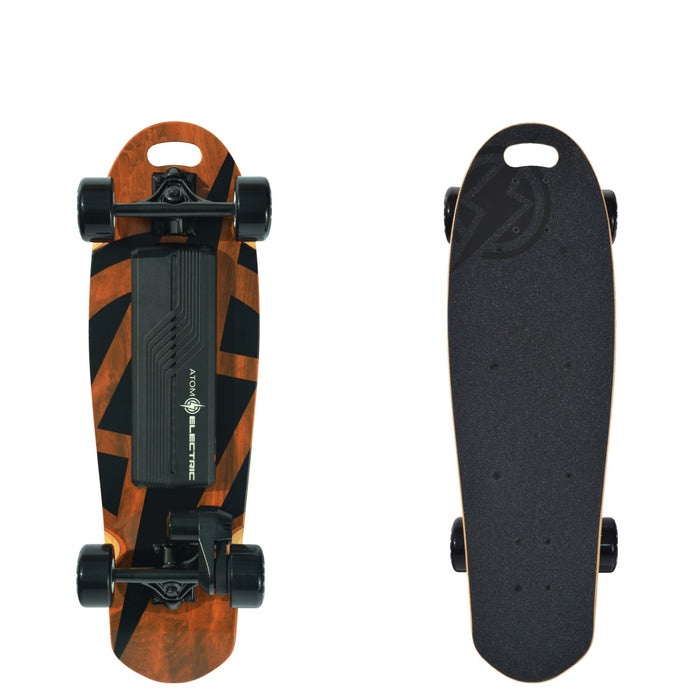 Atom B10 Electric Skateboard and Pennyboard
Original price
$ 449.95
-
Original price
$ 449.95
Atom B10 Electric Skateboard: The Ultimate Street Thrill
🔥 Unleash the Streets: The Atom B10 is your ticket to street skateboarding excitement like never before.
🍁 Premium Maple Deck: Crafted from sturdy maple, this deck offers a smooth and durable ride that you can count on.
⚙️ Belt-Driven Powerhouse: Featuring a 1000W belt motor, the B10 delivers exhilarating speed and performance.
🎮 Effortless Control: With an ergonomic 2.4GHz wireless remote, mastering your ride has never been easier.
The Atom B10 Electric Skateboard redefines urban commuting, bringing you the thrill of skateboarding on city streets. Introducing the Atom B10, the perfect blend of style and substance designed for riders who demand the best.
Constructed with a premium maple deck, the Atom B10 ensures a smooth and comfortable ride, even on the most challenging city streets. This deck is not just about aesthetics; it's built to withstand the rigors of everyday use, providing a reliable platform for your adventures.
Equipped with a potent 1000W belt-driven motor, the B10 packs enough power to propel you at speeds of up to 25 km/h (16 MPH), making it the ideal choice for those looking for an adrenaline rush during their daily commute. It's not just about speed; the B10 can carry a rider weighing up to 125 kg (275 lbs), making it suitable for riders of all sizes.
Take command with the included ergonomic 2.4GHz wireless remote control. Its intuitive design allows you to accelerate, brake, and switch between two speed modes effortlessly. Safety meets sustainability with regenerative braking, ensuring a secure descent on declines while conserving energy for an extended ride.
Ready to roll right out of the box, the Atom B10 comes with everything you need to hit the streets: a fully assembled board, battery charger, remote control with USB charging cord, and a handy skate tool for maintenance. Get ready to experience the future of urban transportation with the Atom B10 Electric Skateboard.
Key Features:
Two Speed Modes: Choose between two exhilarating speed settings to suit your riding style.
Smooth Sine Wave ESC: Enjoy precise control and smooth acceleration with the advanced Sine Wave ESC (Field-Oriented Control).
Built to Last: The Atom B10 is designed to withstand daily use and keep you rolling for years to come.
What's in the Box:
1 x Fully Assembled Board
1 x Battery Charger
1 x Remote Control (Including USB charger cord)
1 x Skate Tool
Manufactured in China to the highest quality standards, the Atom B10 Electric Skateboard is built to thrill and built to last. Don't wait any longer; elevate your urban commute and experience the joy of skateboarding with the Atom B10.
Disclaimer: Always wear appropriate safety gear and follow local regulations when riding your electric skateboard.