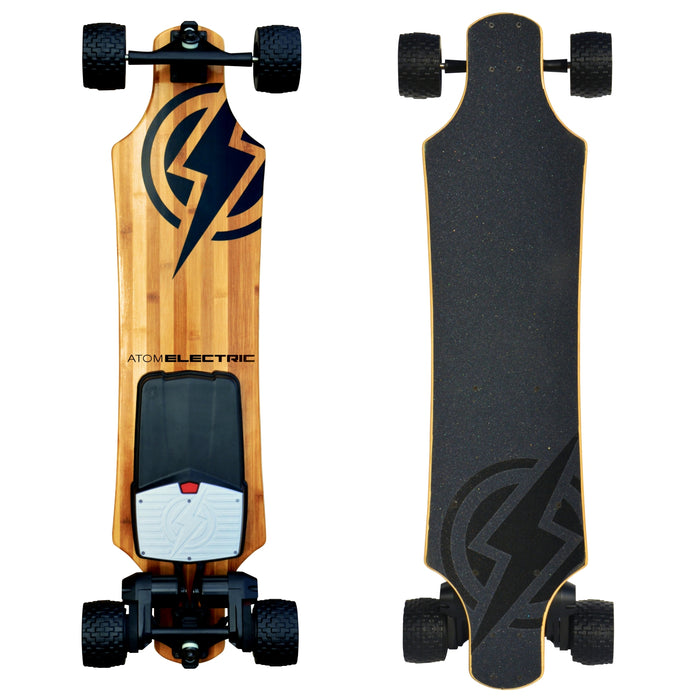 Atom B18-DX Electric Longboard and Skateboard
Original price
$ 899.95
-
Original price
$ 899.95
Atom B18-DX Electric Skateboard: Conquer All Terrains with Style
🔥 All-Terrain Dominance: Whether it's rough off-road trails or city streets, the Atom B18-DX is your ultimate companion.
🌿 Bamboo & Maple Deck: Crafted from a blend of bamboo and maple for the perfect mix of flexibility and strength.
⚡ Dual 1800W Belt Motors: With a pair of powerful 1800W motors, this skateboard is primed for thrilling rides.
🔄 Versatile Wheels: Easily switch between 100mm all-terrain wheels and 90mm street wheels for a customized experience.
The future of skateboarding has arrived, and it's exhilarating like never before. Introducing the Atom B18-DX Electric Skateboard - the epitome of power, style, and versatility. Engineered for those who demand the best, this skateboard is designed to conquer every terrain, ensuring your adventures know no bounds. Be it rugged off-road paths or the smooth urban jungle, the Atom B18-DX guarantees an unparalleled ride.
But the journey doesn't stop at the ride itself. This skateboard includes a wireless 2.4GHz ergonomic remote control that feels completely natural in your hand. With secure wireless technology, you can effortlessly accelerate, brake, and switch between two-speed modes with precision. Plus, the regenerative braking not only enhances safety on downhill descents but also conserves energy, taking sustainability to a whole new level.
Each Atom B18-DX comes complete with everything you need to embark on your skateboarding adventure: a battery charger, remote control with a USB charger cord, a skate tool for maintenance, and an owner's manual to guide you through the experience. Don't wait any longer – elevate your skateboarding journey and embrace the future with the Atom B18-DX Electric Skateboard.
Product Details:
Deck Material: Bamboo & Maple
Deck Length: 40 inches
Dimensions: 40"" x 9.8""
Weight: 8 kg (18 lbs)
Wheel Size: 100mm (all-terrain) or 90mm (street)
Motor Type: Dual 1800W Belt Motors
Max Speed: 33.8 km/h (21 mph)
Max Weight Capacity: 125 kg (275 lbs)
Max Climb Angle: 22%
Regenerative Brakes: Yes
Remote Control: Ergonomic 2.4GHz Wireless
Ride Modes: Two Speed Modes
ESC: Sine Wave (FOC)
What's in the Box: Board fully assembled with Gear Ratio 2 - (4) MBS 100mm All Terrain Wheels, (2) 60T wheel pulleys, and (2) 246mm belts. Additional Set of (4) 90mm Street Wheels, (2) 48T wheel pulleys, and (2) 225mm belts. Battery Charger, Remote Control (Including USB charger cord), Skate Tool, Owner's Manual
Factory Location: China
Waterproof Rating: IP54
App Enabled: No
Battery Type: Standard 10S2P
Range: 19.3 km (12 miles)
Charge Time: 3 hours