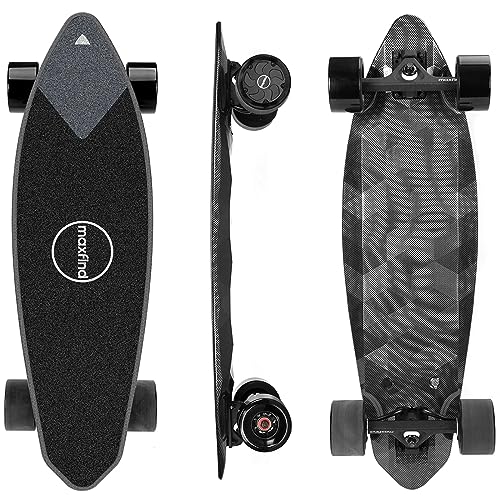 Electric Skateboard with Remote- Dual Motor E-Skateboard for Teens and College, Motorized Longboard for Cruising and Commuting (MAX 2 PRO)
Original price
$ 549.00
-
Original price
$ 549.00
Brand: maxfind
Color: Black
Features:
INTEGRATED DESIGN: Experience the future of electric skateboarding with the Maxfind Max 2 Pro. Its innovative and seamless full-body construction sets it apart, delivering a stylish and streamlined look that's bound to turn heads. With its state-of-the-art design, this skateboard is an eye-catching blend of functionality and aesthetics.
CONCEALED BATTERY for ENHANCED APPEAL: Unleash your ride with the electric skateboards hidden battery feature. This cutting-edge design choice not only adds to the board's sleek appearance but also provides a practical advantage. Enjoy the convenience of a hidden battery that seamlessly integrates with the skateboard's structure, giving you a cleaner, more refined ride.
DIAMOND-CUT DECK for FASHION-FORWARD RIDERS: Take your style to new heights with the Max 2 Pro's diamond-cut deck. Its uniquely patterned surface showcases a sophisticated aesthetic that sets it apart from ordinary electric skateboards. Ride in style and stand out from the crowd with this attention-grabbing feature.
SAFETY & STABILITY: Your safety is our priority, and the motorized skateboard excels in providing a secure and stable riding experience. Equipped with a dual 1200W motor, this skateboard offers powerful acceleration and precise control. Feel confident as you cruise through campus knowing that you can effortlessly handle any terrain with stability and ease.
UNMATCHED PERFORMANCE: The Max 2 Pro takes your daily commute to new heights with its outstanding performance features. Reach exhilarating speeds of up to 24 mph, making your journey faster and more efficient. With a remarkable range of 15 miles on a single charge, this skateboard ensures that you can enjoy an extended ride without worrying about battery life. Its standard 31-inch deck provides a comfortable and balanced platform for riders of all skill levels.
model number: MAX 2 PRO
Part Number: Max 2 pro
Package Dimensions: 35.0 x 14.0 x 7.0 inches