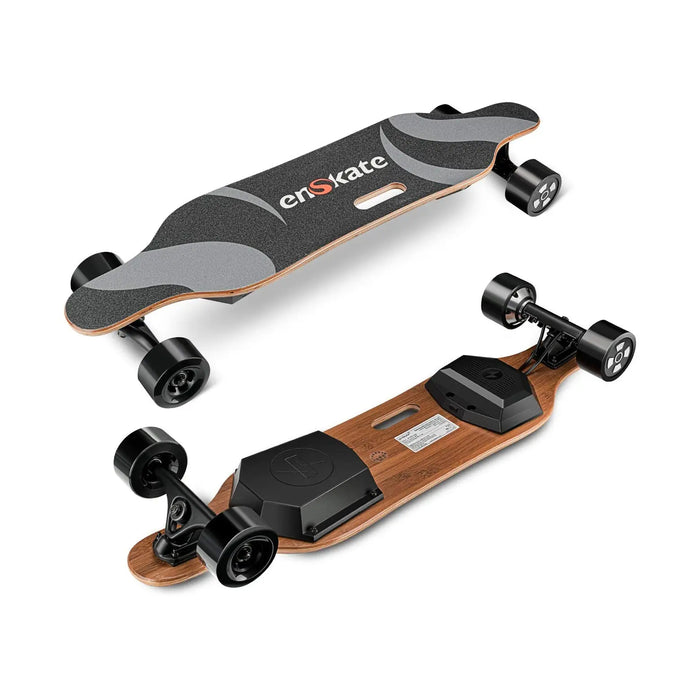 enSkate R2 Electric Skateboard and Longboard
Original price
$ 399.00
-
Original price
$ 399.00
enSkate R2 Electric Skateboard: Unleash the Streets
🔥 Street Riding Dominance: The enSkate R2 takes on the urban jungle with style and performance.
🌿 Premium Deck: Crafted from a blend of Bamboo and Maple for the perfect balance of flexibility and strength.
⚡ Dual Hub Motors: Equipped with two powerful 450W hub motors, this skateboard is a force to be reckoned with.
🛠️ Precision Control: Navigate the cityscape effortlessly with precision forged trucks and three versatile ride modes.
Experience the thrill of city cruising like never before with the enSkate R2 Electric Skateboard. Designed for those who crave the rush of the concrete jungle, this skateboard embodies style, power, and innovation. Whether you're navigating crowded streets, weaving through traffic, or exploring your neighborhood, the enSkate R2 is your ultimate companion.
Crafted with care, the deck combines Bamboo and Maple to give you the ideal blend of flexibility and durability. It's your ticket to a smooth, responsive ride that can tackle the challenges of urban terrain. With a sleek 36.6"" profile, it's the perfect size for both commuting and carving up the streets.
Feel the surge of power as the dual 450W hub motors propel you to speeds of up to 35 km/h (22 mph). The enSkate R2 effortlessly handles inclines of up to 20%, so hills won't slow you down. And when it's time to slow down or stop, the regenerative braking system not only enhances safety but also conserves energy.
Take control with the S2 2.4GHz remote controller featuring an OLED screen for real-time information. Switch between three ride modes to match your riding style, from smooth cruising to high-speed thrills. The updated enSkate ESC 2.0 ensures a responsive and reliable ride every time.
Worried about range? The 10S2P battery pack offers a range of 16-20 km (10-12.5 miles) on a single charge, while the quick 3.5-hour charge time means you'll be back on the streets in no time.
What's in the box? Your enSkate R2 Electric Skateboard package includes a power adapter, charger, and the S2 2.4GHz remote controller. Everything you need to kickstart your urban adventures.
While the enSkate R2 is designed to handle the urban environment, please note that it is rated IP54, making it dust-proof. Avoid using it in rainy conditions to keep your e-board in prime condition.
Don't miss your chance to redefine your urban commute and explore the streets with the enSkate R2 Electric Skateboard. Elevate your ride today!