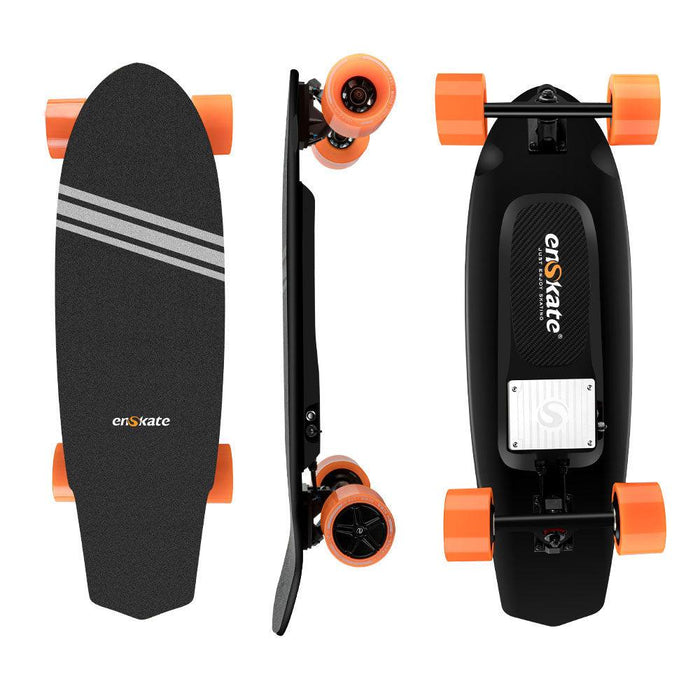 enSkate R3 Mini Electric Skateboard and Electric Pennyboard
Original price
$ 479.00
-
Original price
$ 479.00
enSkate R3 Mini Electric Skateboard: Cruise the Streets in Style
🚀 Unleash Your Inner Speed Demon: Whether you're commuting or just cruising, the enSkate R3 Mini is your ticket to an electrifying ride on city streets.
🛠️ Premium Craftsmanship: Built with a 9-layer Canadian Maple deck, this skateboard ensures both durability and a comfortable ride.
⚙️ Dual Hub Motors: Featuring two 450W hub motors, this skateboard offers impressive power and acceleration for an unforgettable journey.
🔄 Versatile Ride Modes: Easily switch between 3 different ride modes to match your style and skill level.
Experience the future of urban transportation with the enSkate R3 Mini Electric Skateboard. Crafted for riders who demand both style and substance, this skateboard is your perfect companion for conquering the city streets in style.
The R3 Mini's sleek design is complemented by its high-performance capabilities. With a 35 km/h top speed, you'll zip through traffic effortlessly, while the 95A shock absorption truck ensures a smooth and comfortable ride. Whether you're a seasoned rider or a beginner, the three available ride modes cater to all skill levels, allowing you to customize your experience.
But it's not just about speed; it's also about control. The included wireless remote controller lets you accelerate, brake, and switch between modes with ease. And with regenerative braking, you not only enjoy a safer descent on declines but also help conserve energy, making this skateboard an eco-friendly choice.
Everything you need to embark on your electric skateboarding journey is included in the box: the R3 Mini skateboard, charger, detachable cord, user guide, remote controller, micro USB cable, and skate tool. With a battery range of 12-18 km (7-10 miles) and a quick 2-hour charge time, you'll be back on the road in no time.
Designed for urban adventurers and thrill-seekers, the enSkate R3 Mini Electric Skateboard delivers style, performance, and excitement in one package. Elevate your daily commute and embrace the future of urban mobility with the R3 Mini.