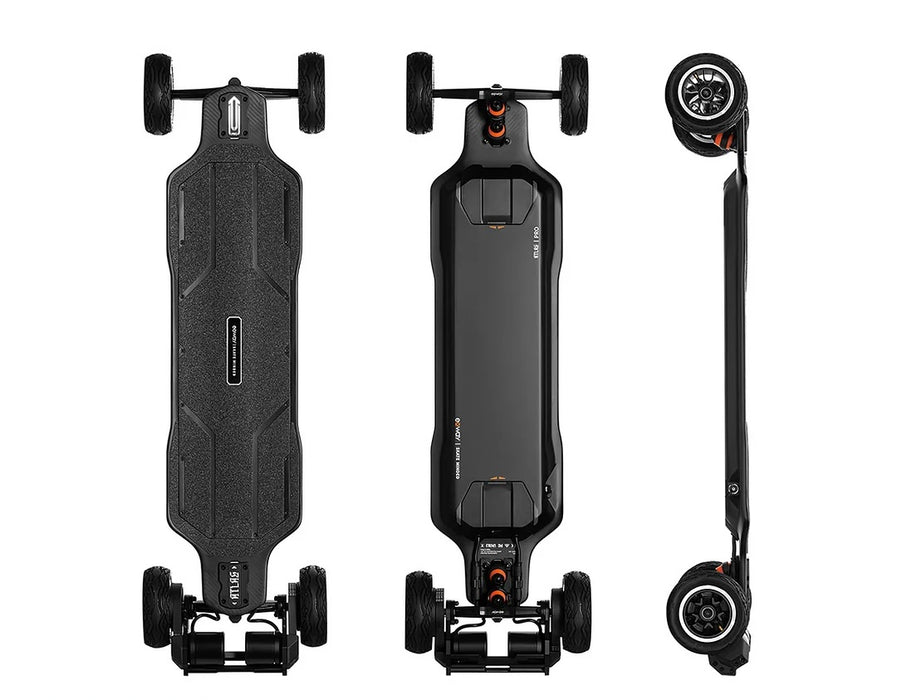 Exway Atlas PRO
Save

10

%
Save

10

%
Original price
$ 1,749.00
Original price
$ 1,749.00
-
Original price
$ 3,969.00
Original price
$ 1,749.00
Exway Atlas PRO Electric Skateboard: The Peak of All-Terrain Adventure
🌐 All-Terrain Freedom: Ready to tackle any landscape, the Exway Atlas PRO is an adventurer's dream.
🔗 Carbon Fiber Unibody: A sleek carbon fiber deck for unparalleled strength and lightweight performance.
⚙️ Customizable Power: Opt for 3528W in a 2WD setup or double up with 7056W in a 4WD configuration for ultimate torque.
🏔️ Mountain Goat Agility: A staggering 40% hill grade capability, the Atlas PRO climbs like no other.
Embark on the most daring rides with the Exway Atlas PRO, engineered to exceed the expectations of the all-terrain electric skateboard market. This isn't just a skateboard; it's a powerhouse on wheels, ready to elevate your riding experience to pro levels.
The Atlas PRO doesn't compromise on capacity either, supporting riders up to 780 lb, ensuring that it's a fit for everyone. The innovative R3 remote with Bluetooth 5.0 offers seamless connectivity, and together with ESC 3.0, you're guaranteed a ride that's as smooth as it is responsive.
Whether you're carving the urban jungle or exploring off-road trails, the choice between 160mm pneumatic wheels and 90mm urethane wheels means you have the versatility to switch according to your needs. And with an IP55 rating, not even the elements can slow you down. The Atlas PRO is also app-enabled, offering customization at your fingertips and a substantial 701 Wh battery providing a 24-mile range. All of this, plus a rapid charge time of 4.3 hours, means more time riding and less time waiting. Get ready to push the boundaries of electric skateboarding with the Exway Atlas PRO.