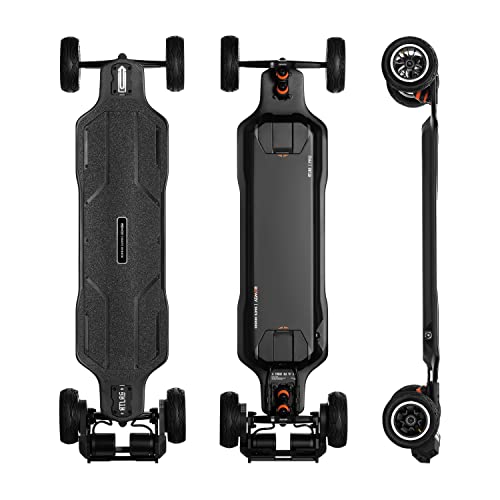 Exway Atlas Pro 2WD All-Terrain Off Road Electric Skateboards, Top Speed of 35 Mph, 24 Miles Range, 3200W Dual Motor, IP55 Waterproof, Professional Electric Longboard for Adults
Original price
$ 1,649.00
-
Original price
$ 1,649.00
Brand: EXWAY
Color: Atlas Pro-2WD
Features:
Powerful Performance: The Atlas Pro 2WD All Terrain Electric Skateboard with dual 1600W Belt motors generates a max power of 3200W and 50% hill climbing, giving you an adrenaline rush when accelerating and conquering steep hills. The 701Wh battery offers up to 38km of range. The Electric Longboard has the power and range for both short commutes and extended adventures. You'll never feel limited by a lack of performance or battery life.
Durable yet Safe: The Atlas Pro Professional Skateboard built with a high-strength carbon fiber unibody deck handles rough riding with ease. Its sturdy yet lightweight build gives you the freedom to ride hard without fear of damage or instability. Whether you're dodging cracks in the sidewalk or dropping into steep dirt paths, can take it all in stride. Its durable frame offers peace of mind so you can push the limits of your riding.
All-weather Ready: With an IP55 rating Its sealed components prevent damage ideal for riding in any season. No need to cut your esk8 season short due to weather. The Atlas Pro shrugs off the elements so you can skate all year round!
Smooth Control: The Atlas Pro off road electric skateboard uses The ergonomic remote to give you full control for navigating tricky terrain. On fast straightaways or winding mountain roads, responds instantly to your input via the wireless remote. You'll feel in total control as you carve effortlessly through any environment.
Customizable & Smart: The free app allows you to change riding mode for different riding conditions. Multiple options for on and off-road adventures. Customize your Atlas Pro to suit your riding style and local terrain. With integrated technology and accessory options, you can make it highly versatile and uniquely your own.
180 Days Warranty — The warranty starts on the date that the board is received and is valid for 6 months for this professional off road electric skateboard. Your views on the product are valuable to us, if you have any views on product improvement or dissatisfaction, please feel free to contact us. The customer must provide valid proof of purchase for warranty coverage. Replacement parts are available for sale after the warranty period is over.
model number: X1 Max Hub
Details: Up to 38 km Range; Up to 55 km/h Top Speed; 50% hill climbing
Package Dimensions: 51.0 x 16.0 x 8.5 inches