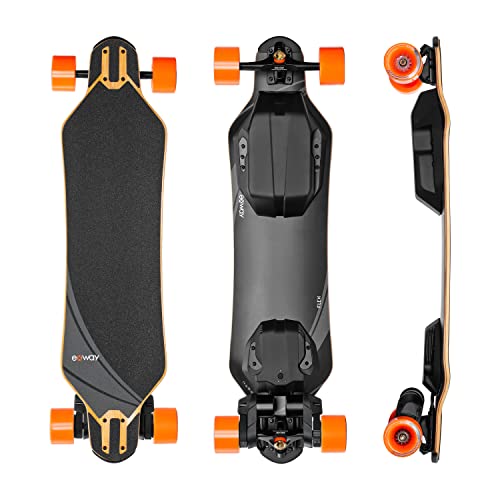 Exway Flex SE Belt Longboard Electric Skateboard with Remote, Top Speed of 28 Mph, 28miles Range, Elastic Composite Deck, IP55 Waterproof, Electric Longboard for Adults & Teens
Original price
$ 649.00
-
Original price
$ 649.00
Brand: EXWAY born for freedom
Color: Flex SE-Belt
Features:
SUPER FLEXIBLE DECK — Exway Flex SE Combining a classic deck design with high-tech construction and materials, the Flex deck is made to go electric. The calculated placement of the fiberglass layers wrapped around a bamboo core allows us to tune and optimize the flex profile, maximizing stability and comfort.
REDEFINING RIDE QUALITY — The result of rounds of attentive fine-tuning, the Flex ER is Exway's budget-friendly board of choice for riders of all levels. With an upgraded ESC for increased performance, a refined deck design for the optimal balance of flex and stability which generates a top speed of 30 mph and a range of 28 miles
FOCUS ON DETAILS — Little Things Can Make a Big Difference. Vibration damping grip tape, shock absorbing risers, high-rebound urethane wheels. Combined, these little features on the Flex ER elevate its ride comfort beyond the sum of 'em all.
MOBILE APP SUPPORT — Tune your Flex ER for a personalized ride experience with our advanced mobile app. From acceleration curves to special ride modes like cruise control, discover new ways to ride your Flex ER every day.
180 Days Warranty — The warranty starts on the date that the board is received and is valid for 6 months for this electric skateboard. Your views on the product are valuable to us, if you have any views on product improvement or dissatisfaction, please feel free to contact us. The customer must provide valid proof of purchase for warranty coverage. Replacement parts are available for sale after the warranty period is over.
model number: F1R
Details: 🛹 Introducing the Exway Flex ER- the ultimate electric skateboard designed for the city streets and beyond! 🌆💨 💪 This sleek and powerful board is perfect for getting around town, traveling short distances, or just having fun with friends. With a powerful electric motor, it can reach speeds of up to 28mph, making it one of the fastest electric skateboards on the market! 🚀 🌟 Plus, with its innovative suspension system, the Exway Flex ER can tackle any terrain with ease, from rough city streets to dirt paths and more! 🏞️ 💯 Whether you're an experienced skateboarder or just looking for a fun and eco-friendly way to get around town, the Exway Flex ER is the perfect choice. With its advanced features, sleek design, and unbeatable performance, this electric skateboard is sure to impress! 😎 🛒 So why wait? Order your Exway Flex today and experience the ultimate ride! 🤙 ExwayBoard provides global 24/7 English and Chinese support. A 6-month warranty covers parts replacement, software/hardware upgrades, and repair services. Exway ensures an enjoyable riding experience throughout your journey together.
Package Dimensions: 38.6 x 13.8 x 7.1 inches