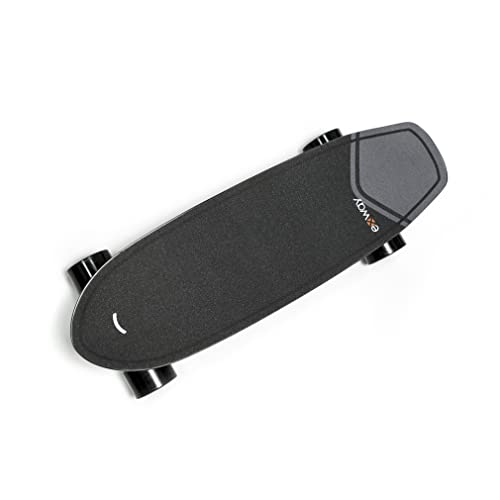 Exway Wave Belt 99Wh Electric Skateboards with Remote, Top Speed of 23 Mph, Quick-Swap Battery, 440 LBS Max Load, IP55 Waterproof, Mini Cruiser for Adults & Teens
Original price
$ 699.00
-
Original price
$ 699.00
Brand: EXWAY
Color: Wave Belt 99Wh
Features:
Unmatched flexibility: Exway Wave is not only smaller in size and weight, but also meets the performance needed for daily use. You can put it under your seat, throw it in your suitcase, the possibilities are endless. Also a shorter distance between front and rear trucks with kick tail design leads to an unparalleled agility; Standard equipped tail puck can better protect the deck without having to worry about wearing down the deck.
Quick-Swap Battery Modules: Designed to be safe and compact so riders can throw it in their backpack anytime. At just under 2 kg/ 4lbs, the 99Wh module gives riders up to 17km/10 miles of range on a single charge and doubles as a power bank to charge mobile devices. (Max 10W)
Hassle-Free Lighting with ESC 2.0: To maximize the space available for the battery module, we've built the ESC into the base of the drivetrain. And we didn't stop there. Front and rear lights powered by the battery module have also been integrated into the base of the trucks, controlled by a one-touch button on the remote.No more bending down to turn your lights on, no more forgetting to charge your lights, grab your Wave and go ride!
Pro Deck Design: Here at Exway, we love a comfortable yet controllable deck, so we created our own cruiser-style deck for the Wave, with variable concave, foot pockets, and wheel flares. Oh, and we didn't forget the most important part, a kicktail! Constructed with layered fiberglass and maple, then finished with a UV-cured coat, we made sure the Wave would stand up to the "drop and go" ride style of the most seasoned skaters.
Smart and Safe Power: With individual cell monitoring for all 24 cells within the battery module, UL-certified software and hardware protection systems, and rated for IP55 water resistance; charge, store, and ride the Wave worry-free as we've put in the work to make it as safe as we can. And we provide you with a 6-month warranty from the day you receive the board.
Details: EXCEPTIONALLY PORTABLE, FAST-SWAP BATTERY, INTEGRATED PROGRAMMABLE LIGHT SYSTEM, ELECTRIC CRUISER!
EAN: 0717162065814
Package Dimensions: 33.1 x 14.1 x 7.1 inches