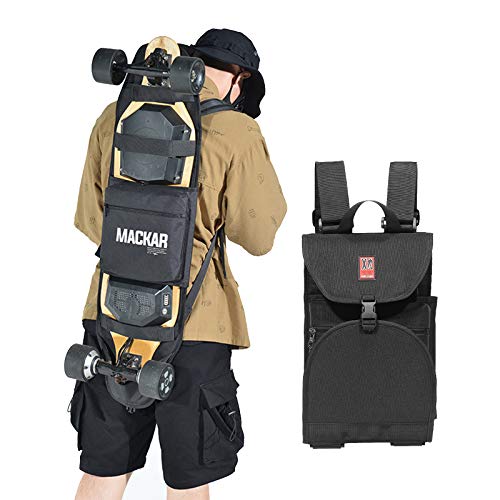 inktells Skateboard backpacks Bag with Two Adjustable Shoulder Straps,Foldable Skateboard Backpacks for Men and Boys,Universal Street Trend Skate Carry Bags for Travel
Original price
$ 45.99
-
Original price
$ 45.99
Brand: inktells
Color: Black
Features:
[Basic facts]Expanded size: 80*24cm (31.5*9.4inches),Folded size:45*24cm(17.7*9.4inches), Material:Encrypted polyester 900D,Skateboard fixing method:Velcro and bottom pocket support (Only sell skateboard backpack, skateboard and model are not included)
[applicability]The Skateboard Backpack is suitable for skateboards with a length of 74-95cm(29.1-37.4inches) and a width of less than 22cm(8.6inches).
[Multifunction]Skateboard bag with a small pocket, It can carry both skateboards and small objects for travel.In the unfolded state, it is a skateboard bag, and in the folded state, it is a backpack for travel.
[Comfortable]The thick and padded shoulder straps can be adjusted in length to distribute the weight of the skateboard bag reasonably, making it more comfortable when carrying the skateboard bag.
【Durable】This double-shoulder backpack is made of encrypted polyester 900D, making it more wear-resistant and tear-resistant.By the way it is also waterproof.
model number: 754422847728
Part Number: 754422847728
Details: This is a multi-functional skateboard bag, which can hold skateboards and has a small pocket to hold small items. It is lightweight and foldable. When riding a skateboard, it can be folded into a nice small backpack on shoulders. It is comfortable to wear. We have made thicker padding on the shoulder straps, and you can also distribute the weight by adjusting the length of the shoulder straps. Product feature [Size] Expanded size: 80*24cm (31.5*9.4inches),Folded size:45*24cm(17.7*9.4inches)The Skateboard Backpack is suitable for skateboards with a length of 74-95cm(29.1-37.4inches) and a width of less than 22cm(8.6inches). [Material]: Encrypted polyester 900D,the higher the number, the better the quality and the more durable. Most skateboard bags use polyester 600D, we use polyester 900D [Fixing method]: 2 velcros and 1 bottom pocket support,When installing the skateboard, put the skateboard in the bottom support bag first, and then buckle it with Velcros. Packaging Information 1 skateboard bag in one package (Only sell skateboard bags, skateboard and model are not included)
EAN: 0754422847728
Package Dimensions: 17.7 x 12.1 x 2.8 inches