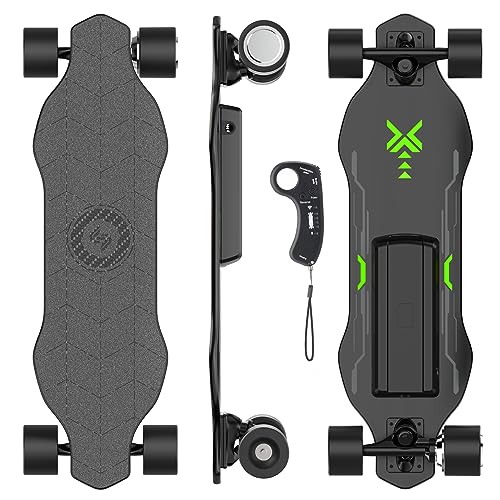 isinwheel V6 Electric Skateboard, 450W Peak Power, 10 Miles Max Range, 12 MPH Top Speed, 8 Layers Maple E-Skateboard with Wireless Remote Control, 3 Speed Adjustment, 264Lbs Max Load
Original price
$ 289.99
-
Original price
$ 289.99
Brand: isinwheel
Color: black
Features:
[A more fun entry-level electric skateboard]: Whether you're looking for something small for yourself or even for a child, the isinwheel V6 Electric Skateboard is an excellent option. This pint-sized board is easy to store and tote around, and offers plenty of control to novice and experienced riders alike.
[Trusted New Version Lithium Battery]: It's a lot of fun to maneuver around with a 12-mph top speed that's unremarkable but more than sufficient. With a range of 8-10 miles, it's totally the perfect way to get you through town and school.
[Wireless Remote Control ]: The compact size and easily modulated speed make this a good pick for beginners, V6 e-boards enable users to ride with both power and convenience. No need to kick and push your way through the city anymore—just set a speed on your remote, cruise to your destination, and tap your brakes with the push of a button. (And hey, you'll definitely be the coolest worker in the office with one of these.)
[8-PLY MAPLE WOOD ]: V6 electric skateboard is made with sturdy 8-ply maple that can comfortably support up to 264 pounds, and its ability to evenly distribute weight for a steady ride, even at its top speed.
[FUN & Best Gift ]: The benefits of eskating go far beyond just having fun. They are environmentally friendly, help to reduce traffic congestion, improve mental health and even help you save some money in the long run. If you want to further explore the fun of electric skateboards, V8 electric skateboards will also be able to bring you a different and enjoyable experience.Jump on an eboard and join us for the most fun you'll ever have on a plank of wood with four wheels.
[Buy with Confidence ]: isinwheel, is a brand you can always trust. Are you still worried about motor failure? Are you worried about the battery life or loss of accessories? No need to worry, isinwheel provides you with 365 days of quality assurance. If there is any problem with the battery or other accessories, instantiate reissue, no waiting for repairs. 24/7/365 customer services online.
Package Dimensions: 28.3 x 10.6 x 5.9 inches