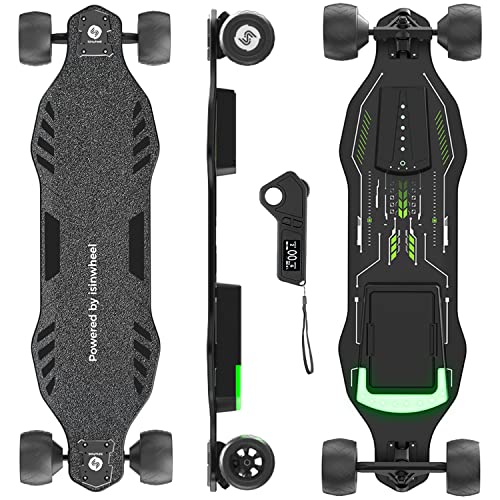 isinwheel V8 Electric Skateboard with Remote, 1200W Brushless Motor, 30 Mph Top Speed & 12 Miles Range, IP54 Waterproof, Electric Longboard for Adults &Teens with Green Ambient Light
Original price
$ 599.99
-
Original price
$ 599.99
Brand: isinwheel
Color: black
Features:
[Removable and Detachable.]: The batteries that V8 uses are removable and detachable. After simple replacement, you can get longer mileage. The unique design makes you the most trendy traveler.
[More Power E-skateboard]: isinwheel V8 e-skateboard adopts dual-wheel brushless motors, and maximum speeds of 28-30 Mph can be achieved. Its maximum power is up to 600W to ensure you can travel smoothly on uphill, sandy, or snowy days. The powerful motor is the foundation of all-electric skateboards, and isinwheel has been deeply engaged in research for many years to create the most perfect skateboard user experience. Your trust is our insistence.
[Unique & Fun Experience]: isinwheel V8 electric longboard takes you to experience the ultimate sense of speed. You can choose between slow start and sport mode, which do away with the shortcomings of traditional skateboards that take a long time to pick up speed, electric skateboards give you more boost and a new experiment. The ambient skateboard light highlights the style in the dark, making you the most unique among e-boarders. 🎁No doubt, this is the best gift for everyone!
[4 Modes & Smooth Braking]: ESC sensitive control system for precise speed control and smooth braking. Safer than traditional skateboards, all speeds and brakes on the skateboard can be easily controlled by remote control. Friendly to everyone!!! TIPS: No matter which speed, please pay attention to wearing a helmet. We always care about your safety.
[More Secure & Stable]: This isinwheel electric skateboard conforms to ergonomic principles, perfectly matching the contours of the foot, increasing friction to make it easier to get started. It is load-bearing up to 264LBS, containing eight layers of Canadian maple and a frosted coating to protect your travel safety. Meanwhile, 105mm wheels ensure you can drive safely on any road, and polyurethane wheels are stable, shockproof, and anti-skid.
[Buy with Confidence]: isinwheel, is a brand you can always trust. Are you still worried about motor failure? Are you worried about the battery life or loss of accessories? No need to worry, isinwheel provides you with 365 days of quality assurance. isinwheel electric skateboard adopts the same lithium battery as Tesla. If there is any problem with the battery or other accessories, instantiate reissue, no waiting for repairs. 24/7/365 customer services online.
model number: V8
Details: ①Bigger and more stable wheels②Ergonomic deck with superb friction③BMS Battery Management System④Removable independent battery for easier battery life⑤Create different four models for different people⑥Shining ambient lights make you the most beautiful scenery⑦No hassle replacement and 24/7/365 customer services online
Package Dimensions: 39.5 x 14.4 x 7.0 inches