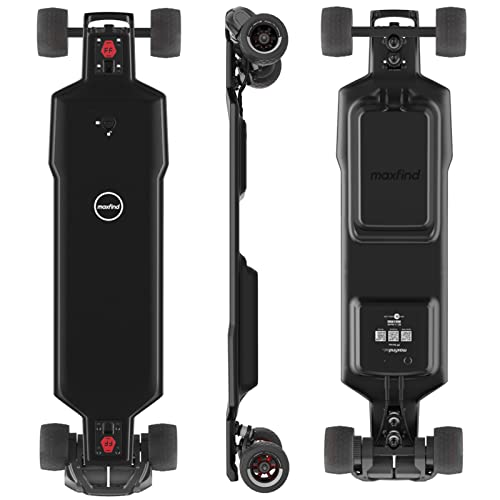 Maxfind Belt Motor All-Terrain Electric Skateboards with Remote 38" Electric Longboard for Adults Teens Kids (FF Belt)
Original price
$ 849.00
-
Original price
$ 849.00
Brand: maxfind
Color: black
Features:
[GO THE EXTRA MILE]: MAXFIND FF Belt Electric Skateboard offers a 25-mile range, pushing the boundaries of your adventures. Whether commuting or carving streets, MAXFIND FF Belt keeps you riding longer.
[FEEL THE NEED FOR SPEED]: MAXFIND FF Belt offers a thrilling top speed of 28 mph. Dual 1500W hub motors provide jaw-dropping acceleration and heart-pounding velocity for a wild ride.
[CONQUER ALL TERRAIN]: MAXFIND FF Belt conquers hills with 35% hill climbing capability. Built to handle challenging landscapes, it offers a smooth and exhilarating ride on city streets and rugged trails.
[INTELLIGENT BATTERY SYSTEM]: MAXFIND FF Belt has 8.7Ah 12S3P battery for endless adventures. Fast-swap design enables quick replacement, extending your ride. Hobbywing 3.0 ESC and smart BMS battery protection ensure performance and safety.
[UNMATCHED RIDING]: MAXFIND FF Belt - style, comfort with X-composite flex deck, shock-absorbing 105mm wheels. OLED remote for intuitive control, portable handle for easy carrying. Perfect blend of convenience and performance.
model number: FF Belt
Part Number: FF Belt
Details: Maxfind is a brand that is committed to providing high-quality electric skateboards for customers. With imported batteries, their skateboards have a longer battery life than other domestic brands, and the performance of the batteries only declines by less than 20% after 18 months of use. The company also partners with top controller suppliers to ensure that their skateboards have a smooth and safe ride, without the sudden stops and starts that can happen with other brands.
Package Dimensions: 46.0 x 15.0 x 7.0 inches