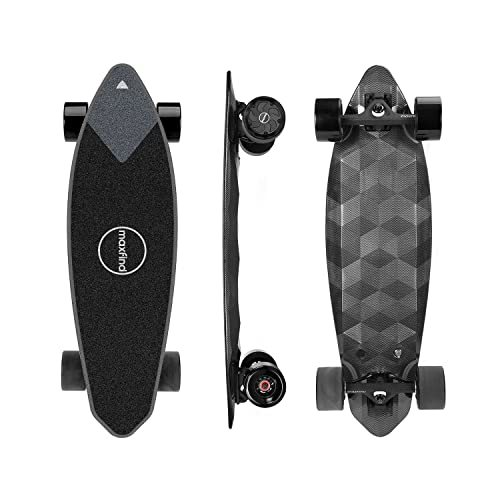 maxfind College Electric Skateboards with Remote Motorized Board Longboard for Teens 24 MPH Top Speed Portable 31 Inch MAX 2 PRO
Original price
$ 549.00
-
Original price
$ 549.00
Brand: maxfind
Features:
INTEGRATED DESIGN: Maxfind Max 2 Pro sets itself apart with innovative full-body construction, delivering a stylish and streamlined look. It's a perfect blend of functionality and aesthetics.
CONCEALED BATTERY: Max 2 Pro features a hidden battery, enhancing appeal and providing practicality. Enjoy the convenience of a seamless integration for a cleaner, refined ride.
DIAMOND-CUT DECK: Max 2 Pro's diamond-cut deck offers a sophisticated aesthetic, setting it apart from ordinary skateboards. Ride in style and stand out with this attention-grabbing feature.
SAFETY & STABILITY: Dual 1200W motor ensures powerful acceleration and precise control. Experience a secure and stable ride, confidently handling any terrain with ease.
UNMATCHED PERFORMANCE: Max 2 Pro reaches exhilarating speeds of up to 24 mph, with a range of 15 miles. The standard 31-inch deck provides comfort and balance for all skill levels.
Details: At Maxfind, we are committed to providing high-quality, high-performance, and environmentally friendly electric skateboards to meet the needs of young people. We firmly believe that our products can bring convenience and joy to users while protecting the planet. The MAX 2 PRO is a portable and aesthetically pleasing electric skateboard designed specifically for college students. With its three-speed gear design, it allows riders of all skill levels to enjoy the excitement and safety of skateboarding. The Electric Standard Skateboards is equipped with a powerful 600W dual-motor system, allowing it to reach speeds of up to 28 km/h and climb hills with a gradient of up to 28%. The wireless remote control features an easy-to-use pulley design for acceleration and braking, with three gear options to adjust speed and control. The skateboard is made of environmentally friendly and recyclable composite panels, making it both beautiful and durable.
Package Dimensions: 34.2 x 13.6 x 7.3 inches