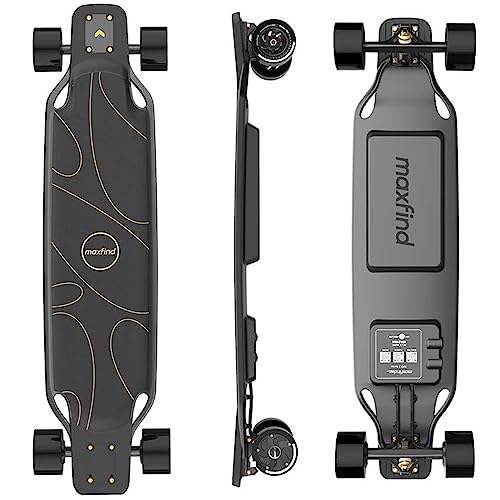 maxfind Electric Skateboards for Adults Motorized Board Offroad E Skateboard with Remote 24 MPH Top Speed, 21 Miles Range, 38 Inch
Original price
$ 547.00
-
Original price
$ 547.00
Brand: maxfind
Color: Black
Features:
Unleash Your Adventure: Experience the thrill of electric skateboard with 21 mile long-range capability, allowing extended journeys without battery worries. With a top speed of 24 mph, it offers exhilarating rides for adrenaline enthusiasts.
Ultimate Riding Comfort: Exclusive X-composite deck provides exceptional comfort and shock absorption for a smooth cruising experience. Say goodbye to bumpy rides.
Powerful Motor for Any Terrain: Robust 1300W motor effortlessly conquers up to 30% inclines, ensuring confident hill climbing and navigating challenging terrains.
Aesthetically Designed for Style and Safety: Sleek design crafted by professionals, featuring imported batteries for superior safety and reliability. Classic 38-inch longboard size with an 11-inch wide deck offers safety and comfort.
Embrace Safety and Comfort: Prioritizing safety and comfort, our advanced design ensures a secure and stable riding experience. Wide board surface and shock absorption technology guarantee utmost safety and comfort throughout your rides.
Details: At maxfind, we are committed to providing our customers with high-quality electric skateboards. We use only the best components in our products, including imported batteries that maintain performance even after extended use. Unlike other brands that use domestic batteries that lose up to 75% of their performance after just 12 months, our imported batteries only decline by less than 20% after 18 months of use. We also maintain deep cooperation with top controller suppliers in the industry to ensure that our skateboards are safe and smooth, providing a seamless riding experience. And, in keeping with our commitment to environmental protection, we use only environmentally friendly and recyclable composite panels. For every 25 composite panels we produce, we protect one maple tree and three bamboo trees for the Earth.
Package Dimensions: 40.0 x 14.0 x 7.0 inches