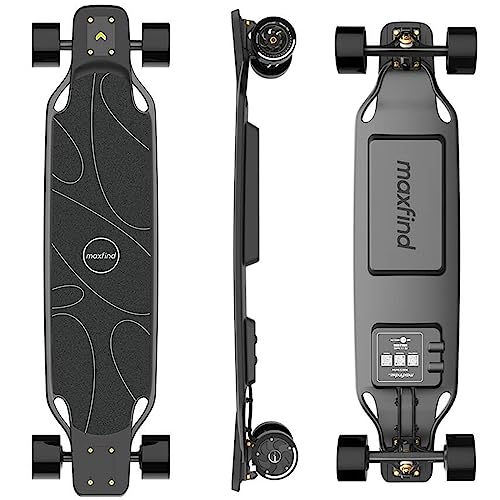 MAXFIND Electric Skateboards for Adults with Remote 24 MPH Top Speed 15 Mile Range 1300W Dual Hub Motor Longboards (MAX 5 PRO)
Original price
$ 427.00
-
Original price
$ 427.00
Brand: maxfind
Color: Black
Features:
INNOVATIVE ALL-IN-ONE DESIGN: Our state-of-the-art electric longboard features seamless full-body construction and ergonomic design, combining style and functionality for an unparalleled riding experience.
HIDDEN BATTERY TECHNOLOGY: Enjoy a sleek look with our concealed battery, seamlessly integrated into the skateboard's structure for improved aesthetics and weight distribution.
SAFETY & STABILITY: Equipped with a powerful dual 1300W motor, our electric skateboard offers secure and stable rides. Experience enhanced control and peace of mind during your daily commute or skateboarding adventures.
PERFECT FOR CAMPUS COMMUTERS & BEGINNERS: Designed for college students and novice riders, our electric longboard is ideal for campus commuting and first-time users. Master the art of electric skateboarding with ease.
EXCEPTIONAL PERFORMANCE & COMFORT: Reach speeds of up to 24 mph and enjoy a 15-mile range on a single charge. The 38-inch longboard deck crafted with comfortable composite materials ensures a smooth ride.
model number: MAX 5 PRO
Part Number: MAX 5 PRO
Details: At maxfind, we are committed to providing our customers with high-quality electric skateboards. We use only the best components in our products, including imported batteries that maintain performance even after extended use. Unlike other brands that use domestic batteries that lose up to 75% of their performance after just 12 months, our imported batteries only decline by less than 20% after 18 months of use. We also maintain deep cooperation with top controller suppliers in the industry to ensure that our skateboards are safe and smooth, providing a seamless riding experience. And, in keeping with our commitment to environmental protection, we use only environmentally friendly and recyclable composite panels. For every 25 composite panels we produce, we protect one maple tree and three bamboo trees for the Earth.
Package Dimensions: 40.0 x 14.0 x 7.0 inches