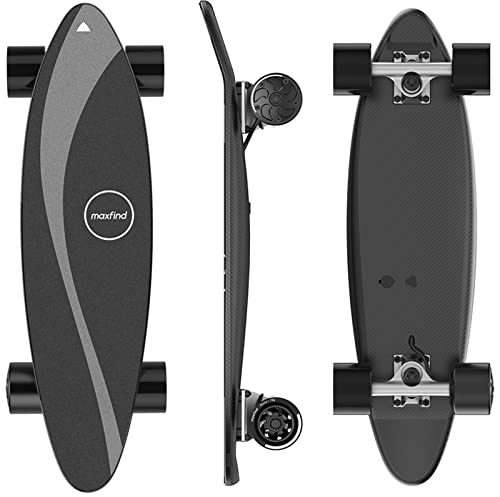 maxfind Entry-Level Electric Skateboards with Remote for Kids Teens Youth 15MPH Top Speed Lightweight 27 Inch MAX ONE
Original price
$ 279.00
-
Original price
$ 279.00
Brand: maxfind
Features:
SEAMLESS INTEGRATED DESIGN: Our all-in-one electric skateboard offers a sleek and visually appealing construction, combining style and functionality for an exceptional riding experience.
HIDDEN BATTERY TECHNOLOGY: Unleash the fun with our electric skateboard's concealed battery feature. It enhances aesthetics and weight distribution, offering a cleaner and refined look.
SAFETY & STABILITY: We prioritize your safety, providing a secure and stable riding experience. With a high-quality 350W motor, our skateboard offers smooth acceleration and precise control, ensuring stability for kids and beginners.
PERFECT FOR KIDS & BEGINNERS: Designed for children aged 9 and above and beginner riders, our skateboard is ideal for learning and enjoyment. It builds confidence and skills, making it the perfect companion for young riders.
EXCEPTIONAL PERFORMANCE & PORTABILITY: Reach speeds of up to 15 mph and enjoy an 11-mile range on a single charge. The standard 27-inch deck, crafted with comfortable and flexible materials, ensures a smooth ride.
Details: Hello, and thank you for considering the MAX ONE electric skateboard from Maxfind. As a seller with over 5 years of experience on Amazon, I can confidently say that this skateboard is the perfect choice for children who love to play outside and want to experience the thrill of skateboarding with an added boost of power. At Maxfind, we adhere to high-quality standards and use only imported batteries. While domestic batteries decline to 75% performance after 12 months of use, the imported batteries used by Maxfind decline by less than 20% after 18 months of use. We also maintain deep cooperation with top controller suppliers in the industry to ensure maximum safety. Additionally, we prioritize environmental protection by using environmentally friendly and recyclable composite panels. For every 25 composite panels produced, we protect one maple tree and three bamboo trees for the Earth. We want children to have a safe and reliable electric skateboard that can accompany them for many years and create lasting memories. We believe that skateboarding helps children put down their phones, tablets, and computers and get outside to play with their friends while cultivating bravery, independence, and a willingness to take on challenges. That's why we designed the MAX ONE, a unique electric skateboard that is specifically designed for children.
Package Dimensions: 31.2 x 10.4 x 6.8 inches