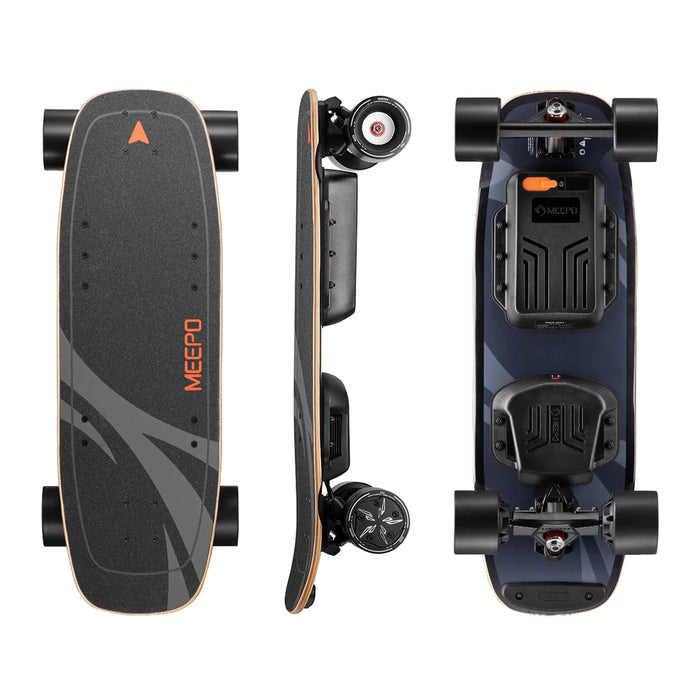 Meepo Atom Mini 3S Electric Mini Skateboard and Pennyboard
Original price
$ 469.00
-
Original price
$ 469.00
Meepo Atom Mini 3S Electric Skateboard: Small Size, Big Thrills
🔥 Unleash the Streets: Whether you're commuting or cruising, the Meepo Atom Mini 3S is your ultimate urban companion.
🌟 Premium Build: Crafted from 8-ply Canadian maple, this board is a sturdy and reliable partner for your adventures.
⚡ Dual Hub Motors: Powered by 2 x 540W hub motors, this skateboard is designed for high-speed thrills.
🔄 Versatile Riding: Effortlessly switch between modes for a customized riding experience.
Experience the future of urban commuting with the Meepo Atom Mini 3S Electric Skateboard. This compact powerhouse redefines the way you navigate city streets. Designed for those who crave excitement in their daily routine, the Atom Mini 3S brings thrills to your doorstep.
But it's not just about the adrenaline rush. The Atom Mini 3S is built to impress with an 8-ply Canadian maple deck, ensuring stability and durability for your rides. Whether you're weaving through traffic or taking the scenic route, this skateboard delivers.
Powered by dual hub motors, each packing 540W of power, this board propels you to speeds of up to 47 km/h (29 mph). You'll effortlessly conquer steep inclines, and with its impressive 150 kg (330 lbs) weight capacity, riders of all sizes can join in on the fun.
Switch between modes with ease using the M4S Digital Display Remote. From cruising to full throttle, the Meepo Atom Mini 3S adapts to your style. And when it's time to slow down, the regenerative braking system not only ensures a safe descent but also conserves energy for more extended rides.
Your adventure begins right out of the box. The Atom Mini 3S comes with a complete package, including a user manual, M4S remote, T-tool for adjustments, and a 42V2A charger to keep you rolling. Whether you're in the US or China, you can count on Meepo's quality craftsmanship.
Don't let the weather stop you. With an IPX5 rating, this electric skateboard is ready to handle a few raindrops. And when it's time to recharge, it only takes 3 hours to get back on the road.
Elevate your daily commute, rediscover your city, and embrace the thrill of the ride with the Meepo Atom Mini 3S Electric Skateboard. It's time to take your urban adventures to the next level.