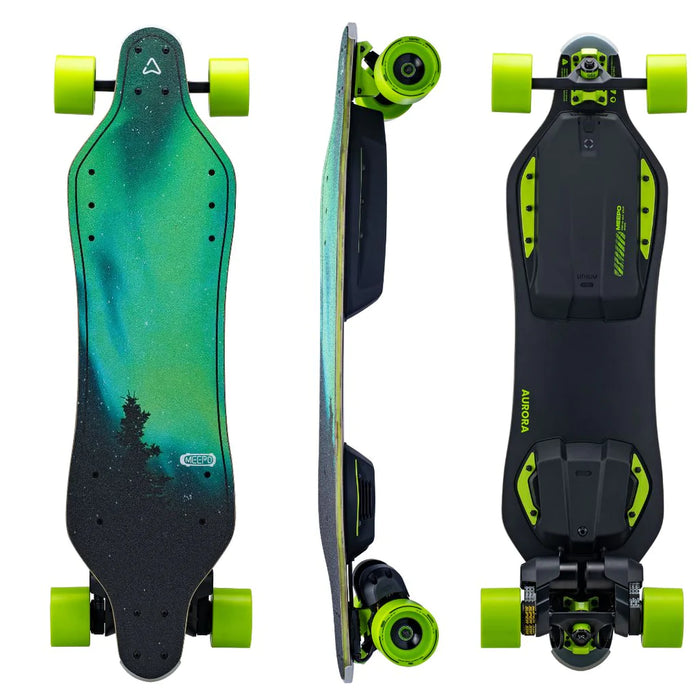 Meepo Aurora Electric Skateboard and Longboard
Original price
$ 799.00
-
Original price
$ 799.00
Meepo Aurora Electric Skateboard: Illuminate Your Ride
🔥 Street-Cruising Excellence: Glide through the urban jungle with Meepo Aurora's unmatched performance on city streets.
🌿 Bamboo and Glass Fiber Deck: Crafted for strength and style, the deck features side inlaid COB lights for a unique touch.
⚡ Belt-Driven Powerhouse: Experience the force of dual 2519W belt motors, propelling you to exhilarating speeds.
🚀 Four Riding Modes: Customize your ride with 4 distinct modes to suit your style and skill level.
Prepare to embark on a journey like no other with the Meepo Aurora Electric Skateboard. Designed to conquer the concrete jungle, this board combines style, performance, and innovation to redefine your riding experience. It's time to light up your world with the Aurora's eye-catching side inlaid COB lights, setting the streets ablaze.
Meepo Aurora isn't just about aesthetics; it's a powerhouse on wheels. With a deck crafted from bamboo and glass fiber, it offers both durability and flexibility for a smooth, responsive ride. And when it comes to speed, the dual 2519W belt motors don't disappoint, pushing the Aurora to an impressive 52 km/h (32 mph).
But what truly sets the Meepo Aurora apart is its versatility. With four distinct riding modes, you can fine-tune your experience to match your riding style and skill level. The included N5S Digital Display Remote puts control at your fingertips, allowing you to effortlessly switch between modes, accelerate, and brake with precision.
Not only is the Meepo Aurora a thrill-seeker's dream, but it's also designed with sustainability in mind. Thanks to its regenerative braking, you not only get a safer descent on declines but also conserve energy, making your rides eco-friendly.
Everything you need to embark on your Meepo Aurora adventure is included in the box: a user manual, the N5S remote, a T-tool for maintenance, and a powerful Gan 300W fast charger. So, whether you're cruising through the bustling streets of the city or carving your own path, the Meepo Aurora is your ticket to an electrifying ride.
Don't wait; illuminate your ride and discover the thrill of the Meepo Aurora Electric Skateboard today.