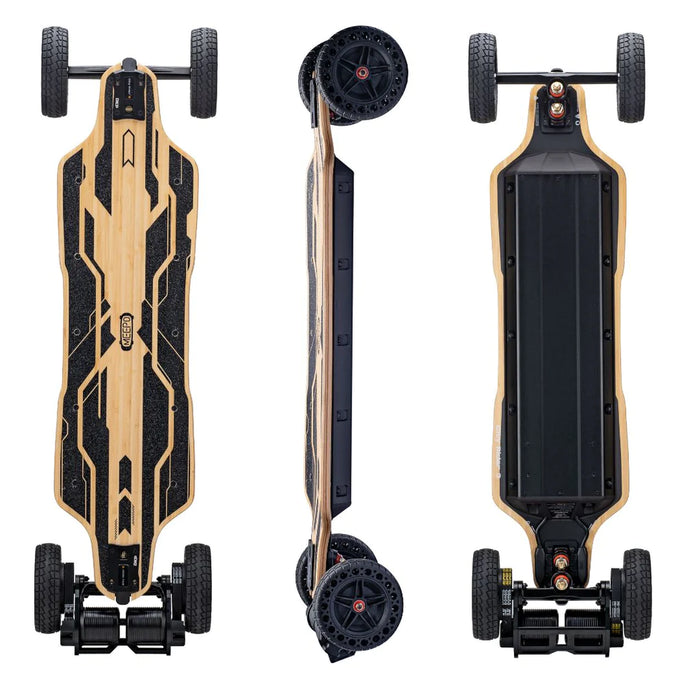 Meepo City Rider 3 Electric Skateboard and Longboard
Original price
$ 899.00
-
Original price
$ 899.00
Meepo City Rider 3 Electric Skateboard: Conquer the Urban Jungle
🏙️ All-Terrain Explorer: From bustling city streets to rugged off-road paths, the Meepo City Rider 3 handles it all.
🌿 Premium Deck: Crafted from a combination of 8-ply Canadian Maple and 2-ply bamboo for exceptional durability and a silky-smooth ride.
⚡ Dual Beastly Motors: Powered by two robust 3500W hub motors, this skateboard is ready for thrilling adventures.
🔄 Seamless Transition: Effortlessly switch between city cruising and off-road exploration with included components.
Experience the future of urban commuting with the Meepo City Rider 3 Electric Skateboard. It's the perfect fusion of power, style, and adaptability. Designed for those who demand excellence, this skateboard empowers you to conquer every terrain, ensuring your adventures know no bounds. Whether you're navigating the city's chaotic streets or exploring untamed off-road trails, the Meepo City Rider 3 guarantees an exhilarating journey like no other.
But the magic doesn't stop at the ride itself. The skateboard's wireless 2.4G M4S Digital Display Remote offers unrivaled control, allowing you to accelerate, brake, and switch modes with effortless precision. What's more, thanks to its regenerative braking system, you not only descend safely on declines but also contribute to sustainability by conserving energy. Each Meepo City Rider 3 package includes everything you need to embark on your electric skateboarding journey - a power adapter, fast 4.5A charger, M4S Remote, T-tool, and a comprehensive user manual.
With a factory presence in both the US and China, Meepo ensures top-notch quality and reliability. And worry not about unexpected weather conditions, as this skateboard is designed to handle them. While the Meepo City Rider 3 isn't fully waterproof, it's more than capable of handling some rain. Plus, the board is app-enabled, allowing you to fine-tune your ride to perfection.
Powered by a 12S3P battery, you can enjoy a substantial range of up to 35 kilometers (21 miles) on a single charge. And when it's time to replenish the power, a quick 3-hour charge will have you back on the road in no time. Elevate your urban commute, break free from traffic, and embrace the Meepo City Rider 3 Electric Skateboard - it's the ultimate way to ride through the city.