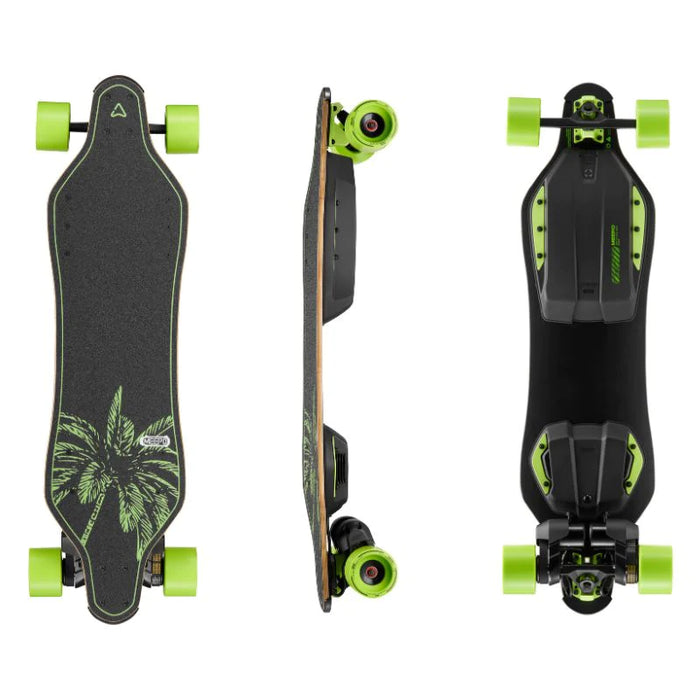 Meepo Envy - NLS 3 Electric Skateboard and Longboard
Original price
$ 699.00
-
Original price
$ 699.00
Meepo ENVY - NLS 3 Electric Skateboard: Unleash Your Urban Adventure
🔥 Street-Savvy Performer: Glide through the city with ease, as the Meepo ENVY - NLS 3 conquers the urban jungle like no other.
🌿 Premium Bamboo-Fiberglass Deck: Crafted with a 2-ply Bamboo and 2-ply Fiberglass deck, enjoy a perfect blend of strength and flexibility for a silky-smooth ride.
⚡ Twin Belt Motors: Equipped with dual 2519 W belt-driven motors, this skateboard delivers an astonishing 52 km/h top speed, ensuring an electrifying experience.
🔄 Customizable Ride: Take control of your ride with the N5S Digital Display Remote, and switch between 4 speed modes effortlessly.
Experience the future of urban commuting with the Meepo ENVY - NLS 3 Electric Skateboard. Designed for urban explorers and adrenaline junkies, this skateboard is your key to unlocking thrilling adventures on city streets. Whether you're navigating crowded sidewalks or cruising down wide boulevards, the ENVY - NLS 3 ensures a seamless and exhilarating ride every time.
But it's not just about the thrill. The Meepo ENVY - NLS 3 is a testament to cutting-edge technology and sustainability. With regenerative braking, you not only ensure a safer descent on slopes but also contribute to a greener planet by conserving energy. Say goodbye to range anxiety as the 12S2P battery delivers an impressive 38 kilometers of urban exploration on a single charge, giving you the freedom to roam.
Each Meepo ENVY - NLS 3 Electric Skateboard comes packed with everything you need to kick-start your urban adventure. Inside the box, you'll find the skateboard itself, the N5S Remote for effortless control, a handy T-tool for maintenance, an extra set of 100A bushings for customization, and a fast 50.4V 4.5A charger to keep you rolling.
Whether you're commuting, cruising, or simply seeking the thrill of the ride, the Meepo ENVY - NLS 3 Electric Skateboard is your partner in urban exploration. So, why wait? Elevate your skateboarding experience and embark on an unforgettable journey through the cityscape with Meepo.