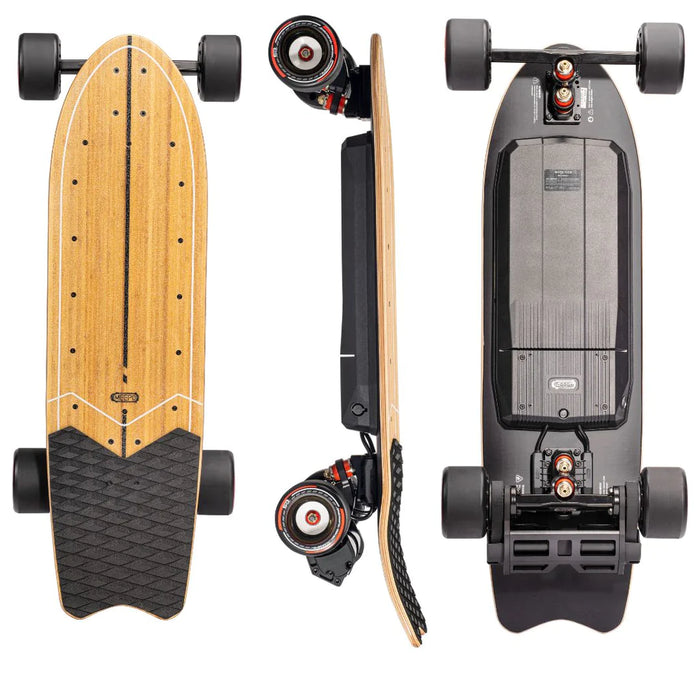 Meepo Flow Electric Skateboard
Original price
$ 729.00
-
Original price
$ 729.00
Meepo Flow Electric Skateboard: Unleash the Streets
🔥 Street King: The Meepo Flow rules the asphalt jungle with unmatched style and speed.
🌿 Deck Mastery: Crafted from a blend of 2 ply fiberglass, 2 ply bamboo, and 5 ply Canadian maple, the Meepo Flow's deck offers a perfect balance of strength and flexibility for a smooth ride.
⚙️ Belt-Driven Powerhouse: Featuring dual 2519W belt motors, this skateboard delivers blistering acceleration and a top speed of 52 km/h (32 mph).
🔄 Ride Modes Galore: With 4 distinct riding modes to choose from, adapt your Meepo Flow to your riding style with ease.
Revolutionize your urban commute with the Meepo Flow Electric Skateboard. Crafted for riders who crave excitement, this skateboard takes street cruising to a whole new level. Whether you're weaving through traffic or exploring your city, the Meepo Flow delivers the thrill you seek.
But the Meepo Flow is more than just a mode of transportation. Its 2.4G N5S Digital Display Remote gives you complete control at your fingertips, allowing you to accelerate, brake, and switch between modes effortlessly. Thanks to regenerative braking, you not only ride safer downhill but also conserve energy, making it eco-friendly and efficient.
Inside the box, you'll find everything you need to start your journey, including a power adapter, a 50.4V4.5A charger, a T-tool, and the comprehensive MEEPO Flow user manual. Meepo boards are designed in both the US and China, assuring you of top-notch quality.
With an IPX5 waterproof rating, the Meepo Flow can handle unexpected drizzles without missing a beat. Plus, the 12S2P battery configuration provides a generous range of 38 km (24 miles) on a single charge, ensuring you can explore your city without worry. Charging up is a breeze, with just 2 hours needed for a full refill.
Redefine your urban mobility experience and conquer the streets with the Meepo Flow Electric Skateboard. Elevate your daily commute and unleash your inner street king today.