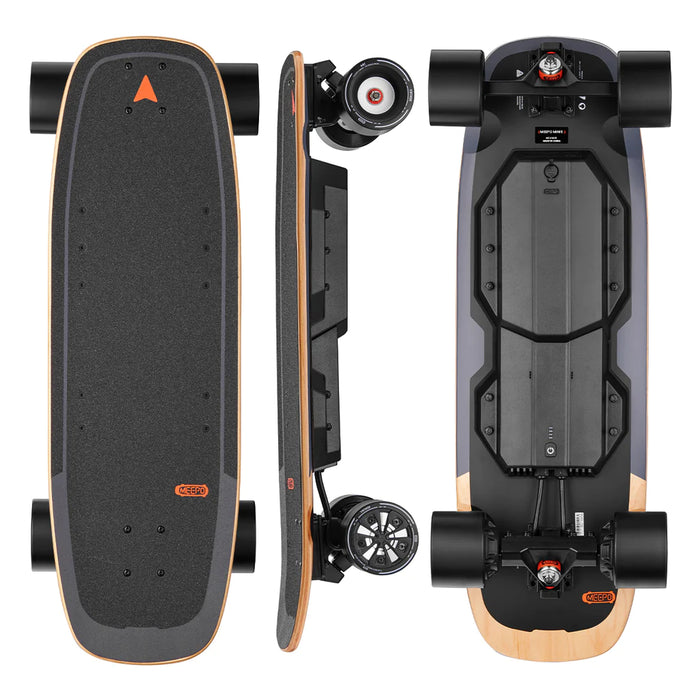 Meepo MINI 5 Electric Mini Skateboard and Pennyboard
Original price
$ 419.00
-
Original price
$ 599.00
Meepo Mini 5 Electric Skateboard: Unleash Your Urban Adventure
🚀 Urban Thrills: Conquer the city streets in style with the Meepo Mini 5, designed for the urban explorer in you.
🛹 Premium Deck: Crafted from 8-ply Canadian maple, the Mini 5 offers unmatched durability for your every ride.
⚡ Dual Hub Motors: Equipped with two 500W hub motors, this skateboard delivers electrifying speed and performance.
🎮 Ride Your Way: Choose between the Mini 5's 11-mile or 20-mile version to suit your commuting or cruising needs.
The future of urban commuting is here, and it's thrilling like never before. Introducing the Meepo Mini 5 Electric Skateboard - a fusion of style, speed, and convenience. Engineered for those who seek adventure within the city limits, the Mini 5 is your ticket to electrifying urban exploration.
But the Meepo Mini 5 offers more than just a thrilling ride. With its 8-ply Canadian maple deck, you can trust in its durability and enjoy a smooth and stable journey through city streets. Its powerful dual hub motors, each packing 500W of power, provide you with the speed and acceleration you crave, making every ride an exhilarating experience.
What sets the Mini 5 apart is its adaptability. Choose between the 11-mile and 20-mile versions to match your daily commute or weekend adventures. The Mini 5's regenerative braking system not only enhances safety but also conserves energy, making it an eco-friendly choice.
Each Meepo Mini 5 comes complete with everything you need to hit the streets: a user manual, remote, remote charger, T-tool for maintenance, and a standard charger. With manufacturing locations in the US and China, you can trust in the quality of your Mini 5.
While the Mini 5 may be built for the city, it's not afraid to get a little wet. With an IPX5 waterproof rating, a bit of rain won't dampen your ride. So, why wait? Elevate your urban adventure with the Meepo Mini 5 Electric Skateboard and discover a new way to explore your city.