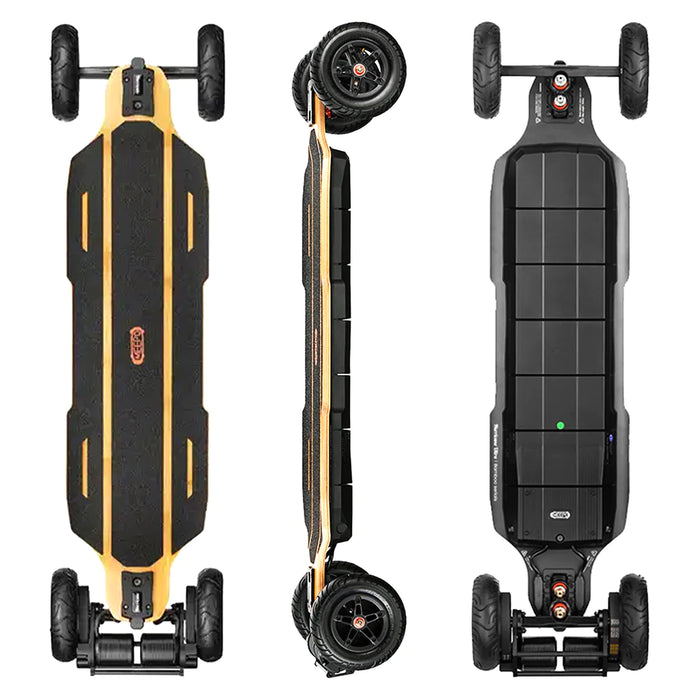 Meepo Ninja - Hurricane Bamboo Electric Skateboard and Longboard
Original price
$ 1,399.00
-
Original price
$ 1,399.00
Meepo Ninja - Hurricane Bamboo Electric Skateboard: Conquer All Terrains
🔥 All-Terrain Mastery: Whether it's city streets or off-road trails, the Meepo Ninja - Hurricane Bamboo has got you covered.
🌲 Premium Deck: Crafted from a blend of 6-ply bamboo, 3-ply fiberglass, and 3-ply composite material for optimal strength and a smooth ride.
⚡ Dual Belt Motors: Equipped with two powerful 3500W belt motors, this skateboard is ready to take on any challenge.
🔄 Versatile Wheels: Switch effortlessly between the 175x50 Meepo 175S Pneumatic Tires and Cyclone 105*65 Wheels to adapt to different terrains.
The future of skateboarding is here, and it's more exhilarating than ever. Introducing the Meepo Ninja - Hurricane Bamboo Electric Skateboard - the ultimate blend of power, design, and versatility. Designed for those who crave adventure, this skateboard is built to conquer all terrains, ensuring your journeys know no bounds. Whether it's tackling rugged off-road trails or cruising through city streets, the Meepo Ninja guarantees an unparalleled riding experience.
But it doesn't end with an extraordinary ride. The skateboard comes with a wireless 2.4G remote controller that offers unmatched performance, allowing you to accelerate, brake, and switch modes with ease. Plus, with regenerative braking, not only do you get a safer descent on declines, but you also contribute to energy conservation, elevating your commitment to sustainability.
Each Meepo Ninja - Hurricane Bamboo package includes everything you need to kickstart your adventures - a power adapter, charger, M4S digital display remote, extra TKP baseplate, remote charger, T-tool, and a set of 105 Cyclone Wheels. So why wait? Elevate your skateboarding experience and embrace the future with the Meepo Ninja - Hurricane Bamboo Electric Skateboard.
🚀 Max Speed: Zoom at speeds of up to 51 km/h (32 mph).
🏋️ Max Weight Capacity: With a sturdy build, it can carry riders weighing up to 150 kg (330 lbs).
🌄 Climbing Ability: Conquer inclines with ease, thanks to its 46% climbing capability.
🔄 Adjustable Trucks: Customize your ride with the choice of Double Kingpin Truck (DKP) or Traditional Kingpin Truck (TKP).
📶 Ride Modes: Enjoy 4-speed modes for a personalized experience.
🔌 ESC: Experience smooth and precise control with the MEEPO ESC.
📦 What's in the Box: Package includes MEEPO Hurricane Bamboo skateboard, user manual, M4S remote, extra TKP baseplate, remote charger, T-tool, and a 50.4V 4.5A charger.
🌍 Factory Location: Manufactured in the USA and China to ensure top-notch quality.
🌦️ Waterproof Rating: Rated IP65 waterproof (excluding saltwater and extreme weather conditions).
📱 App Enabled: Stay connected and track your rides with the Meepo app.
Powered by a 12S4P battery for long-lasting performance.
🔋 Combine with Battery Type: Easily swap or combine batteries for extended range.
🌎 Impressive Range: Cover up to 50 kilometers (31 miles) on a single charge.
⏱️ Quick Charge: Recharge in just 2.1 hours and get back on the road.