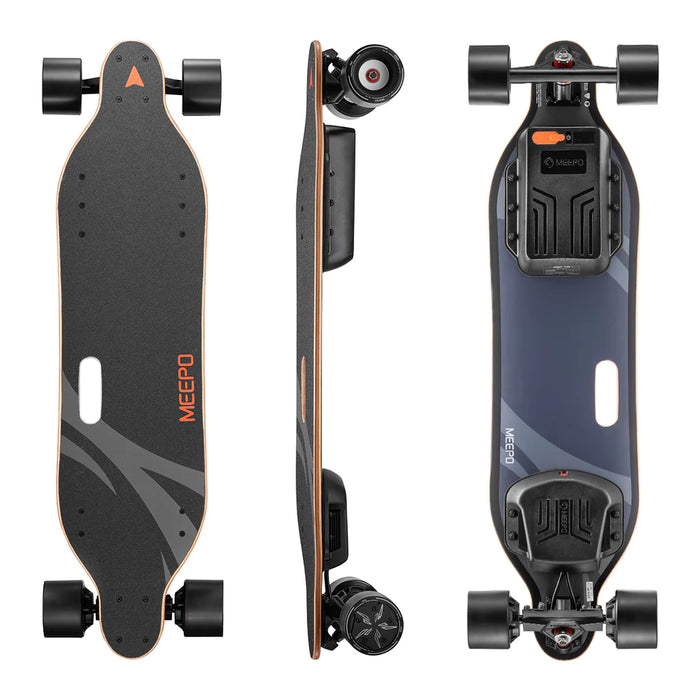 Meepo Super V3S - Electric Skateboard and Longboard
Original price
$ 469.00
-
Original price
$ 469.00
Meepo Super V3S Electric Skateboard: Unleash the Urban Thrill
🔥 Rule the Streets: Meepo's Super V3S is your ticket to conquering the city streets with style and speed.
🌆 Premium Deck: Crafted from 8-ply Canadian maple, this board offers both durability and a silky-smooth ride.
⚡ Dual Hub Motors: Powered by two 540W hub motors, this skateboard is primed for thrilling rides.
🏁 Versatile Ride Modes: Seamlessly switch between modes for the perfect ride every time.
The future of urban transportation has arrived, and it's called the Meepo Super V3S Electric Skateboard. Engineered for riders who demand excellence, this skateboard will redefine your city commute. Whether you're navigating bustling streets or carving through serene parks, the Super V3S guarantees an electrifying experience like no other.
But it's not just about the ride; it's about control. The Super V3S comes equipped with a cutting-edge M4S Digital Display Remote, putting precision at your fingertips. Accelerate, brake, and switch between seven distinct ride modes effortlessly. The board's regenerative braking not only enhances safety on descents but also contributes to energy efficiency, aligning with sustainable living.
Your journey begins the moment you unbox the Super V3S. Inside, you'll find a comprehensive package, including the board itself, an intuitive M4S remote, a T-tool for adjustments, and a 42V2A charger. Everything you need to elevate your daily commute or weekend adventures is at your disposal.
Manufactured with precision in the US and China, the Super V3S boasts an impressive IP54 waterproof rating, allowing you to ride confidently in various weather conditions. The 10S2P lithium-ion battery offers a range of 27 km (17 miles) on a single charge, ensuring you'll reach your destination without hesitation. And when it's time to recharge, the board fully powers up in just three hours, keeping you on the move.
Get ready to embrace the urban thrill like never before. Unleash your potential with the Meepo Super V3S Electric Skateboard and redefine your daily commute.