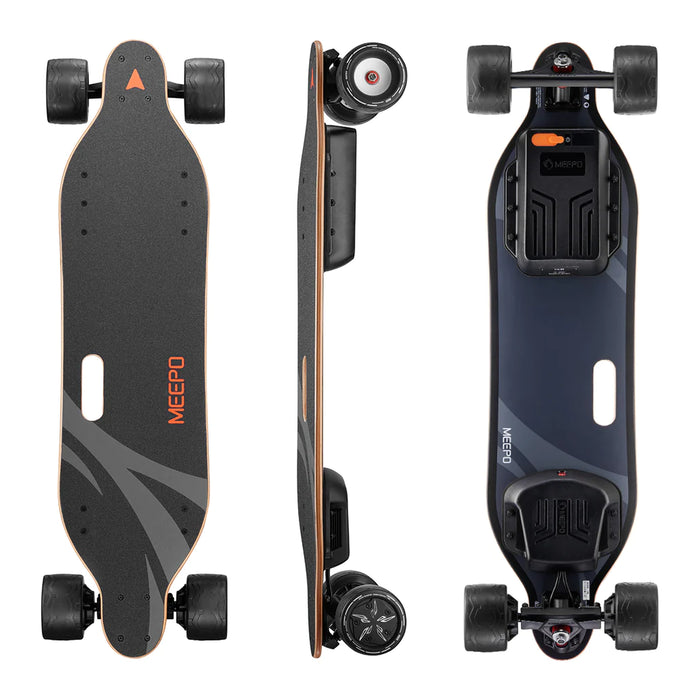 Meepo Super2 V3S ER Electric Skateboard and Longboard
Original price
$ 599.00
-
Original price
$ 599.00
Meepo Super2 V3S ER Electric Skateboard: Conquer the Streets with Speed and Style
🔥 Lightning-Fast Thrills: Zip through the streets at up to 47 km/h with the Meepo Super2 V3S ER, the epitome of urban mobility.
🛹 Premium Deck: Crafted from 8-ply Canadian maple, this deck offers both durability and a smooth ride for your cruising pleasure.
⚙️ Dual Hub Motors: Equipped with 2 x 540W hub motors, this skateboard ensures exhilarating acceleration and effortless hill climbing.
🔄 Versatile Riding: Effortlessly switch between ride modes and dominate the streets with style.
Experience the future of urban commuting with the Meepo Super2 V3S ER Electric Skateboard. Designed for those who demand speed and reliability, this skateboard is your ticket to mastering the cityscape. Glide through bustling streets, conquer steep inclines, and embrace the thrill of urban exploration.
The Meepo Super2 V3S ER boasts a deck crafted from 8-ply Canadian maple, ensuring it can withstand the rigors of daily use while delivering an exceptionally smooth ride. Whether you're commuting to work, meeting friends, or simply enjoying a leisurely ride, this skateboard is your ideal companion.
What sets this skateboard apart is its dual 540W hub motors, which provide an incredible top speed of 47 km/h, making it one of the fastest electric skateboards on the market. Say goodbye to traffic jams and arrive at your destination in record time. With a maximum weight capacity of 150 kg (330 lbs), it accommodates riders of various sizes.
Switching between ride modes is a breeze, thanks to the intuitive M4S Digital Display Remote. You'll have full control at your fingertips, allowing you to adjust speed and braking with precision. Plus, the regenerative braking system not only enhances safety but also conserves energy, contributing to a greener commute.
Every Meepo Super2 V3S ER Electric Skateboard package includes the essentials to kickstart your journey: a user manual, M4S remote, T-tool, and a 42V3A charger. So, whether you're in the US or China, you can experience the thrill of this incredible electric skateboard.
Don't settle for the ordinary. Elevate your daily commute, embrace the future of transportation, and ride the streets with unmatched speed and style. Get ready to own the city with the Meepo Super2 V3S ER Electric Skateboard.