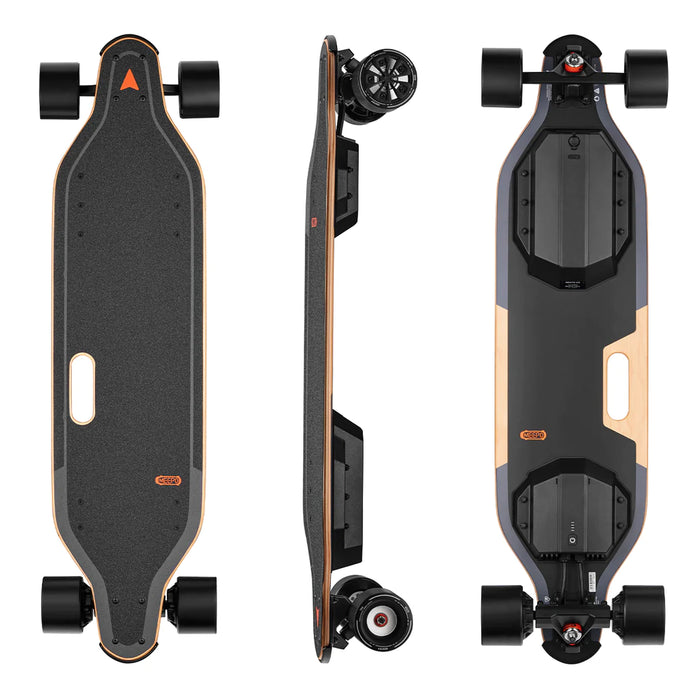 Meepo V5 Electric Skateboard and Longboard
Original price
$ 409.99
-
Original price
$ 599.00
Meepo V5 Electric Skateboard: The Ultimate Street Rider
🚀 Unleash the Speed: Meepo V5 is built for street domination, offering thrilling rides at up to 45 km/h.
🛹 Premium Deck: Crafted from 8-ply Canadian Maple, this deck ensures both durability and a silky-smooth ride.
⚙️ Dual Hub Motors: Powered by two 500W hub motors, the Meepo V5 delivers exceptional torque and acceleration.
🔄 Versatile Riding: Switch between the 11-mile and 20-mile versions to tailor your journey to your needs.
Experience the future of street skateboarding with the Meepo V5 Electric Skateboard. Engineered for those who crave adrenaline and demand top-notch quality, this skateboard is your ticket to an electrifying urban adventure.
The Meepo V5 comes equipped with everything you need to conquer the streets with confidence. Its 8-ply Canadian Maple deck ensures both strength and flexibility, delivering a ride that's smooth as butter. Take control with the included wireless remote, featuring precise acceleration and braking, and switch between modes effortlessly with a simple touch of your thumb.
But there's more to this board than just speed. The Meepo V5 boasts regenerative braking, ensuring not only your safety on descents but also an eco-friendly twist to your ride. Plus, with a max weight capacity of 150 kg, it accommodates riders of all sizes.
Choose your adventure with Meepo V5's two versions: the 11-mile range for quick, thrilling rides, or the 20-mile version for extended exploration. Whichever you choose, you'll find everything you need in the box, including a user manual, remote charger, T-tool, and a fast charger to keep you on the go.
Don't miss out on the street revolution. Elevate your skateboarding game and cruise the city like never before with the Meepo V5 Electric Skateboard.