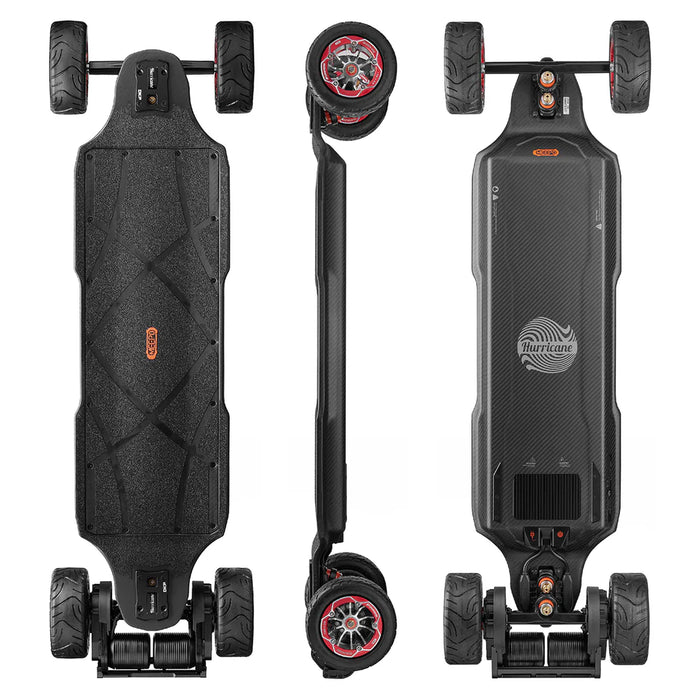 Meepo Vader - Hurricane Carbon Electric Skateboard and Longboard
Original price
$ 1,599.00
-
Original price
$ 1,599.00
Meepo Vader - Hurricane Carbon Electric Skateboard: Conquer All Terrain
🔥 Unmatched All-Terrain Performance: From city streets to off-road adventures, the Meepo Vader - Hurricane Carbon dominates every terrain with ease.
🌟 Superior Carbon Fiber Deck: Crafted from 3K Carbon Fiber, this 39.2-inch deck ensures exceptional durability and a silky-smooth ride.
⚡ Dual Belt Motors: Powered by 2 x 3500W motors, this skateboard is a force to be reckoned with, propelling you to thrilling speeds.
🔄 Versatile Ride: Switch effortlessly between the included 165mm Cyclone Racing Wheels for off-road adventures and conquer the city streets with ease.
🚀 Lightning-Fast Speed: Reach a mind-blowing top speed of 51 km/h (32 mph) and experience the thrill of true acceleration.
🏋️ Impressive Weight Capacity: With a maximum weight capacity of 250 kg (552 lbs), the Meepo Vader - Hurricane Carbon accommodates riders of all sizes.
🏞️ Conquer Inclines: Tackle steep hills with a 46% climbing grade, making even the most challenging terrains accessible.
🔄 Regenerative Braking: Enjoy safer descents with regenerative braking, which also conserves energy for extended rides.
🛠️ Advanced Trucks: Equipped with 9.25' Double Kingpin Trucks and an additional TKP baseplate, you'll have unmatched control and stability.
🎮 Intuitive Remote Control: The M4S Digital Display Remote puts power at your fingertips, allowing you to customize your ride effortlessly.
🚀 Multiple Ride Modes: Explore different ride modes and unleash the full potential of your skateboard with the MEEPO Custom LY-FOC 55B ESC.
The Meepo Vader - Hurricane Carbon Electric Skateboard is not just a mode of transportation; it's an exhilarating adventure waiting to happen. It combines power, design, and versatility to deliver the ultimate riding experience. Whether you crave the excitement of off-road trails or the smoothness of city streets, this skateboard delivers.
But the excellence doesn't stop with the ride. The wireless 2.4G controller ensures precision control, allowing you to accelerate, brake, and switch modes effortlessly. With regenerative braking, you not only ride safer but also extend your journey while promoting sustainability.
Each Meepo Vader - Hurricane Carbon comes with everything you need to start your electric skateboarding journey: a power adapter, charger, wireless remote, and a multi-functional T-tool. Don't miss the chance to elevate your skateboarding experience and embrace the future of electric skateboards with the Meepo Vader - Hurricane Carbon.
What's in the Box: Meepo Hurricane Vader, Extra TKP, User Manual, M4S Remote, Remote Charger, T-tool, 50.4V/8A Gan 400W Fast Charger
Factory Location: Manufactured in the US and China
Waterproof Information: Standard waterproofing for all-weather riding
App Enabled: No app required; enjoy a hassle-free ride
Battery Type: 12S4P Lithium-ion Battery
Combine with Battery Type: N/A
Impressive Range: Enjoy a range of 50 km (31 miles) on a single charge
Rapid Charge: Get back on the road quickly with a charging time of only 2.1 hours
Unleash the power of the Meepo Vader - Hurricane Carbon Electric Skateboard and redefine your riding experience.