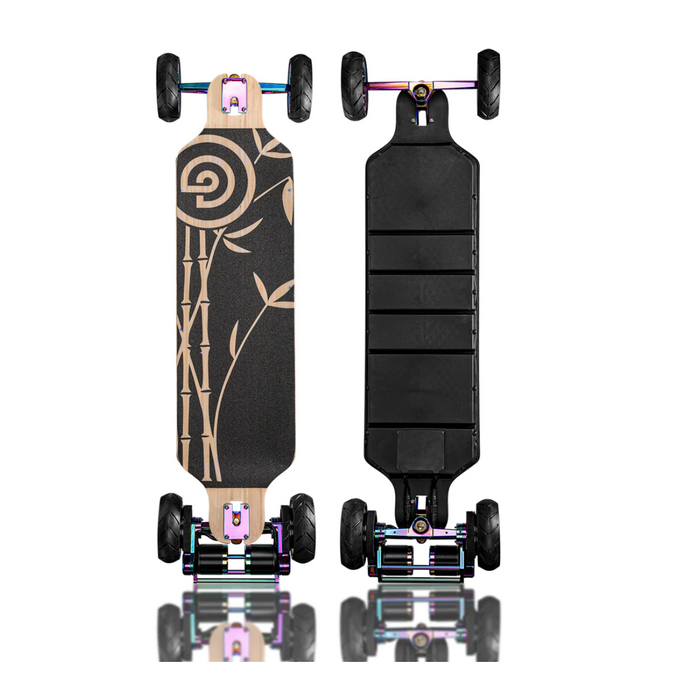 Ownboard Bamboo ZEUS Pro Electric Skateboard and Longboard
Save

28

%
Save

28

%
Original price
$ 1,999.00
Original price
$ 1,899.00
-
Original price
$ 2,149.00
Original price
$ 1,999.00
Ownboard Bamboo ZEUS Pro Electric Skateboard: Master Every Terrain
🔥 All-Terrain Dominance: From bustling city streets to rugged off-road trails, the Ownboard Bamboo ZEUS Pro conquers them all.
🌿 Innovative Deck: Crafted with a blend of Bamboo, Fiberglass, and Canada Maple for the perfect balance of strength and flexibility.
⚙️ Belt-Driven Powerhouse: Equipped with a high-performance belt motor, this skateboard delivers unmatched torque and speed.
🚀 Turbocharged Speed: Rocket to speeds of up to 60 km/h (37 mph) and feel the rush like never before.
🏔️ Conquer Inclines: Tackle steep slopes with ease thanks to its 30% climbing ability.
♻️ Regenerative Braking: Enjoy safer descents while conserving energy for extended rides.
🛠️ Precision Trucks: Featuring CNC hangars and a Forged TKP baseplate, experience both carving finesse and high-speed stability.
🎮 OLED Remote Control: Take full command with the OLED remote offering 4 Speed Modes, including a blistering Turbo Mode.
📈 Customized ESC: The customized Hobbywing ESC (9028) delivers a tailored acceleration and braking experience with Smart ON/OFF functionality.
📦 What's in the Box: Your Ownboard Bamboo ZEUS Pro arrives complete with everything you need for an epic ride, including extra accessories and protection.
🌎 Factory Location: Manufactured in the USA and China, ensuring top-notch quality.
💧 Waterproof Design: With an IP56 rating, your skateboard can handle unexpected drizzles and puddles.
📱 App-Enabled: Connect to the app for enhanced control and tracking of your ride.
Combine its remarkable range with the ability to swap batteries for endless adventures.
🛣️ Unmatched Range: Cover an incredible 60 km (37 miles) on a single charge, exploring more than ever before.
🔌 Quick Charging: Get back on the road fast with a rapid charging time.
Experience the future of skateboarding with the Ownboard Bamboo ZEUS Pro Electric Skateboard. Designed for those who demand the best, this skateboard is engineered to dominate every terrain you encounter. Its innovative deck, blending Bamboo, Fiberglass, and Canada Maple, ensures both durability and flexibility, giving you a smooth and responsive ride.
But it's not just about the deck; it's about the power within. The belt-driven motor propels you to speeds of up to 60 km/h (37 mph), making every ride an adrenaline-pumping adventure. Conquer steep inclines with ease, thanks to its impressive climbing ability, and descend safely with regenerative braking.
With precision trucks, an OLED remote control, and a customized ESC, you have complete control over your ride, whether you're cruising the city or hitting the trails. And with app connectivity, you can fine-tune your experience even further.
Your Ownboard Bamboo ZEUS Pro comes fully equipped with all the essentials and more, ensuring you're ready for anything. Plus, its IP56 waterproof rating means you can ride confidently in changing weather conditions.
Elevate your skateboarding journey with the Ownboard Bamboo ZEUS Pro, where power, innovation, and versatility meet. Order yours today and ride the future of electric skateboarding!