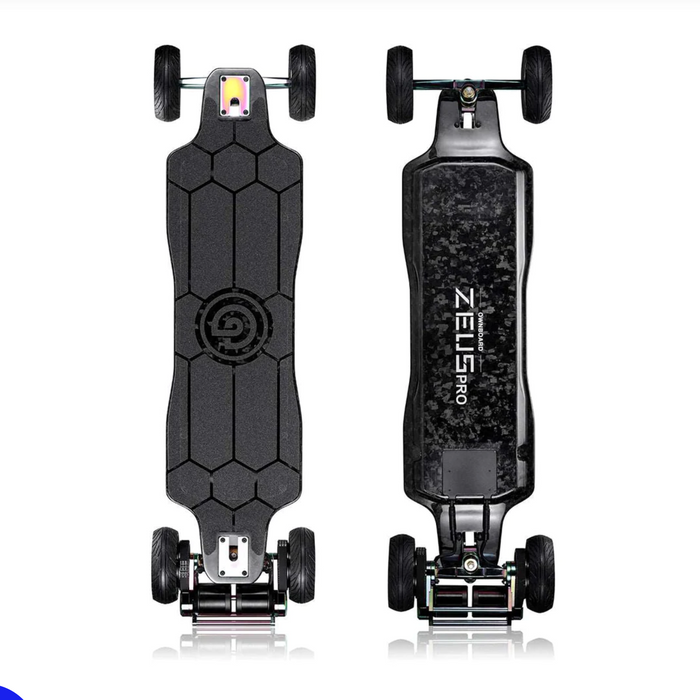 Ownboard Carbon ZEUS Pro Electric Skateboard and Longboard
Original price
$ 1,299.00
-
Original price
$ 1,549.00
Ownboard Carbon ZEUS Pro: Conquer Every Terrain with Style
🔥 Unmatched All-Terrain Performance: From city streets to rugged trails, the Ownboard Carbon ZEUS Pro dominates every landscape.
🛠️ Forged Carbon Fiber Deck: Crafted from top-tier forged carbon fiber, guaranteeing both durability and a luxurious ride.
⚙️ Belt-Driven Powerhouse: Featuring dual 3350W belt motors, this skateboard is primed for any challenge that comes your way.
🔄 Effortless Wheel Switch: Seamlessly transition between GT's 120mm Cloudwheels and AT's 6-inch Pneumatic Wheels, all with oil-slick anodization on the pneumatic rims.
The future of electric skateboarding has arrived, and it's embodied in the Ownboard Carbon ZEUS Pro. This exceptional board is designed for those who demand the best, ready to conquer any terrain and elevate your riding experience to new heights. Whether you're craving the smooth asphalt of the city or the challenging off-road paths, the Carbon ZEUS Pro ensures every ride is an adventure.
But it's not just about the ride; it's about control and performance. The 2.4G wireless controller puts the power at your fingertips, allowing you to accelerate, brake, and switch between four different speed modes, including a blistering Turbo mode. With regenerative braking, you not only descend safely on declines but also contribute to sustainability by conserving energy.
Each Ownboard Carbon ZEUS Pro comes with everything you need to embark on your journey. The package includes a power adapter, certificated charger, DC Port Charger Adapter with options for US, AU, or EU plugs, a T-tool, bash guard pre-installed with both GT and AT wheels, a convenient handle kit, and silicon protection sleeves in randomized colors (Orange, blue, green, gray, and yellow).
Engineered in the USA and produced in China, this electric skateboard boasts a level of waterproofing that lets you confidently ride in various weather conditions. Plus, it's app-enabled, allowing you to fine-tune your riding experience and monitor essential stats.
With a battery that offers impressive range and quick charging, the Carbon ZEUS Pro ensures your adventures know no bounds. Don't wait; take your electric skateboarding to the next level with the Ownboard Carbon ZEUS Pro.