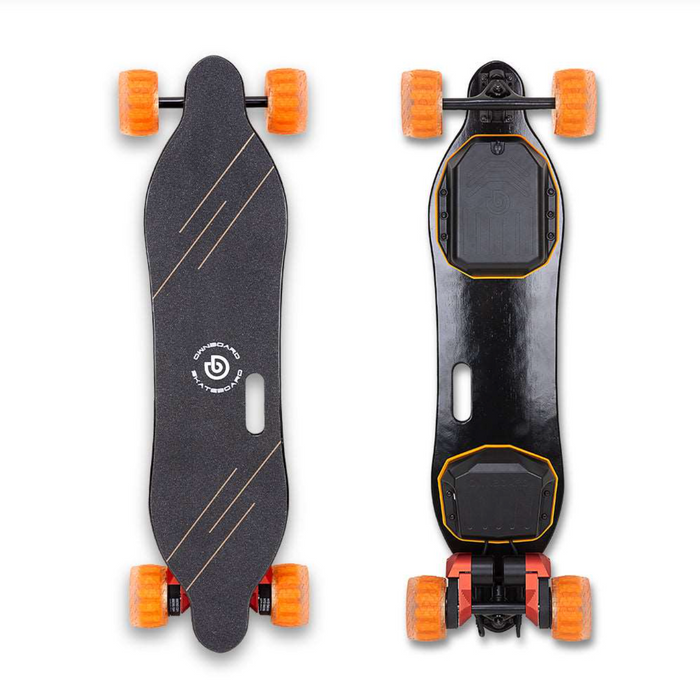 Ownboard W2 PRO Electric Skateboard and Longboard
Save

17

%
Save

17

%
Original price
$ 699.00
-
Original price
$ 699.00
Ownboard W2 PRO Electric Skateboard: Unleash Your Street Riding
🔥 Ultimate Street Performance: The Ownboard W2 PRO is your ticket to an exhilarating street riding experience, designed for speed and agility.
🌿 Flex-Friendly Deck: Crafted from a fusion of fiberglass and bamboo, this skateboard's flexible deck design delivers shock-absorbing comfort and a responsive ride.
⚡ Dual Belt Motors: Powered by two robust 750W belt-driven motors, the W2 PRO achieves an impressive top speed of 45 km/h (28 MPH).
🚀 Three Speed Modes: Choose from three speed modes to match your skill level and riding preference, all controlled with an intuitive OLED remote.
Elevate your street riding experience with the Ownboard W2 PRO Electric Skateboard. Engineered for riders who crave speed and precision, this board is the ultimate tool for conquering urban terrain. Whether you're commuting through the city or navigating your favorite local spots, the W2 PRO ensures an electrifying journey every time.
At the heart of this powerful skateboard are two 750W belt-driven motors, delivering an adrenaline-pumping top speed of 45 km/h (28 MPH). Say goodbye to traffic jams and hello to efficient and exhilarating rides. The skateboard's flexible deck, made from a combination of fiberglass and bamboo, not only offers superb shock absorption but also provides the perfect amount of flex for carving through the streets with ease.
Take control of your ride with the included OLED remote control, featuring three speed modes to accommodate riders of all levels. Charging your remote is a breeze with the included USB charging cable. Plus, with regenerative braking, not only can you enjoy safer descents on declines, but you'll also contribute to energy conservation.
The Ownboard W2 PRO comes fully equipped with everything you need to hit the streets immediately. In the box, you'll find the fully assembled eBoard, OLED remote control, certified charger, DC port charger adapter (compatible with US, AU, or EU plugs), T-tool for adjustments, rear LED lamp for added visibility, user manual for easy setup, moisture-proof rubber to keep your board in top condition, and an extra belt for peace of mind.
Designed and engineered in China, the Ownboard W2 PRO Electric Skateboard combines performance and style seamlessly. With its sleek design and top-tier components, this board sets the standard for street riding excellence. Get ready to experience the thrill of urban exploration like never before. Upgrade your ride with the Ownboard W2 PRO today!