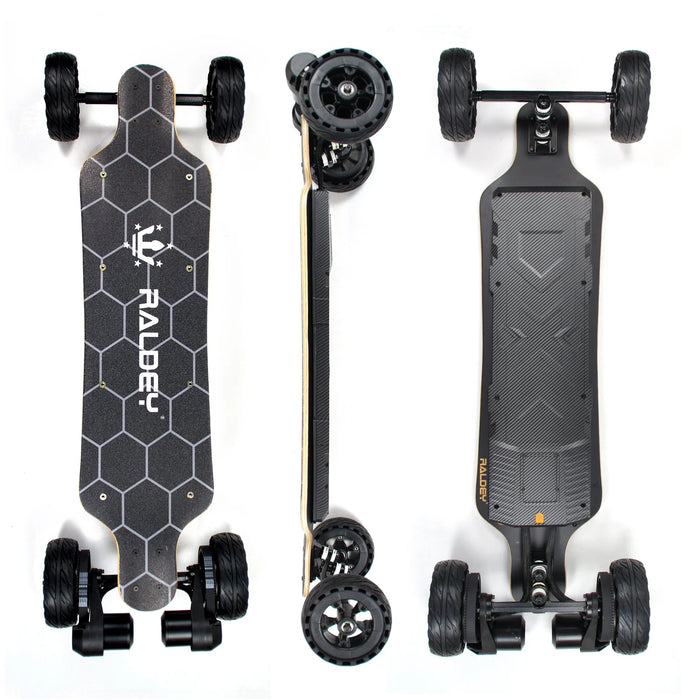 Raldey Bamboo V3S-AT All Terrain Electric Skateboard
Save

14

%
Save

14

%
Original price
$ 1,049.00
Original price
$ 1,049.00
-
Original price
$ 1,209.00
Original price
$ 1,049.00
Raldey Bamboo V3S-AT Electric Skateboard: The All-Terrain Cruiser with a Canadian Touch
🔥 Quick on the Draw: Reach thrilling speeds of up to 28.5 MPH (46 km/h), making every ride an adrenaline rush.
🌲 Authentic Canadian Maple Deck: The 8-layer cold-pressed Canadian Maple deck offers unparalleled durability and flexibility.
⚡ Power-Packed Motors: Dual 1500W belt motors support up to 240 lbs, letting you dominate any terrain.
🏔️ Hill Ascendancy: With a 30% hill climb rate, no slope is too challenging to conquer.
Introducing the Raldey Bamboo V3S-AT, the all-terrain electric skateboard that doesn't compromise on speed or style. Engineered in the USA, this board is your go-to for both daily commutes and weekend adventures.
The skateboard's 40" deck is crafted from 8 layers of cold-pressed Canadian Maple, ensuring a robust yet flexible platform for all your riding needs. Its 40" by 5.4" dimensions provide plenty of space for comfortable riding, regardless of your style or stance.
But it's not just about aesthetics and comfort. The Bamboo V3S-AT is a powerhouse on wheels, thanks to its dual 1500W belt motors. Capable of supporting a weight of up to 240 lbs, this board is suitable for riders of all sizes. And with a 30% hill climb rate, steep slopes become a playground rather than a challenge. The standard 10S4P 14 Ah battery ensures a range of up to 19 miles, depending on various factors like road conditions and load. Charging takes only about 30 minutes, keeping you always ready for the next thrill.
For those who like to customize their ride, the board comes with a Cloudwheel option, which includes 4 pieces of 120mm black Cloudwheels, plastic drive gears, drive belts, and more. Though the board isn't app-enabled, it offers substantial dust and water resistance, with no specific IP rating provided.
Available in a sleek black finish, the Raldey Bamboo V3S-AT is the perfect blend of power, durability, and adaptability. Unleash your adventurous spirit and own the road like never before!