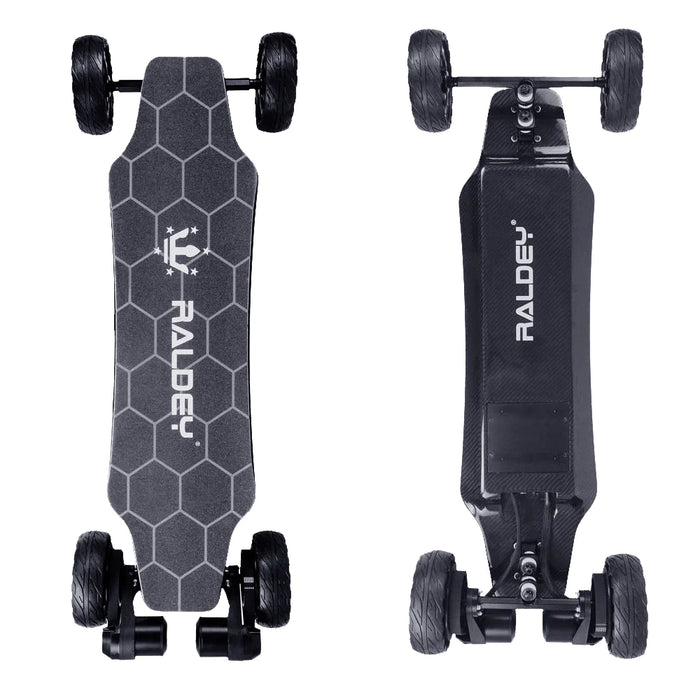 Raldey Carbon AT V.2 - All Terrain Electric Skateboard and Longboard
Save

20

%
Save

20

%
Original price
$ 1,249.00
Original price
$ 1,249.00
-
Original price
$ 1,359.00
Original price
$ 1,249.00
Raldey Carbon AT V.2 Electric Skateboard: Sleek Design Meets Raw Power
🔥 Swift and Smooth: Experience breathtaking speeds of up to 28.5 MPH (46 km/h).
🌲 Elite Craftsmanship: Built with 100% Japanese T700 Carbon fiber, the deck combines lightweight design and unparalleled strength.
⚡ Dual Powerhouses: Featuring 2 x 1500W belt motors, this skateboard can handle up to 240 lbs with ease.
🏔️ Conquer Slopes: With a 30% hill climb rate, tackle inclines without breaking a sweat.
Introducing the next level of electric skateboarding—the Raldey Carbon AT V.2. Crafted in China, this skateboard is the epitome of performance and style, perfect for thrill-seekers who demand the best of both worlds.
The board's 35" deck is made from 100% Japanese T700 Carbon fiber, ensuring it's both lightweight and exceptionally durable. The dimensions of 35" by 9.6" by 7.5" offer ample space for a comfortable ride, no matter your style. Its 10-inch double kingpin trucks offer increased stability and maneuverability, ensuring you're always in control.
The Carbon AT V.2 doesn't just stop at looks and design. It comes with 2 x 1500W belt motors, delivering enough power to support a maximum weight of 240 lbs. And with a 30% hill climb rate, it's capable of handling even the steepest of inclines. The board's standard 10S4P 14 Ah battery offers a range of up to 19 miles, depending on road conditions and load. With a quick charge time of just 30 minutes, you're always ready for your next adventure.
One of the standout features is the included Cloudwheel option, which comes with 4 pieces of black Cloudwheels (120mm), drive gears, drive belts, and more. Although the board is not app-enabled, it comes with a state-of-the-art Hobbywing ESC for unmatched control.
The Raldey Carbon AT V.2 is the board you've been waiting for. Get ready to unleash your inner thrill-seeker!