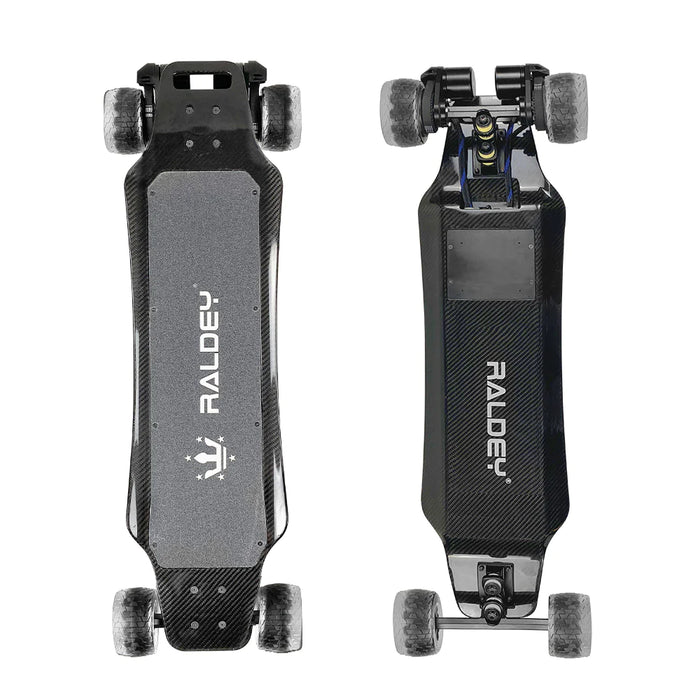 Raldey Cloud Wheel Carbon G3 Electric Skateboard
Save

35

%
Save

35

%
Original price
$ 1,079.00
Original price
$ 1,079.00
-
Original price
$ 1,079.00
Original price
$ 1,079.00
Raldey Cloud Wheel Carbon G3 Electric Skateboard: Glide Through the Streets in Style
🔥 Quick as a Flash: Zoom through the streets at an exhilarating speed of up to 28 MPH (45 km/h).
🌲 Featherlight Deck: Constructed with 100% Japanese T700 Carbon fiber, the deck is both lightweight and incredibly durable.
⚡ Dual Motor Power: Equipped with 2 x 900W belt motors, supporting a maximum weight of 265 lbs.
🏔️ Climb with Ease: A 30% hill climb rate means you can tackle steep slopes effortlessly.
Meet the Raldey Cloud Wheel Carbon G3, the electric skateboard that promises to revolutionize your daily commute and weekend adventures. Manufactured in the USA, this sleek and powerful skateboard is an innovation you wouldn't want to miss.
The skateboard's 35.8" deck is made from 100% Japanese T700 Carbon fiber, giving you the perfect balance of strength and lightweight performance. The dimensions of 35.8 x 9.6 inches provide ample space for a stable and comfortable ride. Navigate the streets like never before with the board's 120mm Cloudwheels, specifically designed to elevate your riding experience.
Performance isn't compromised, thanks to its dual 900W belt motors that can support a maximum weight of 265 lbs. The 30% hill climb rate ensures you're never held back, even when faced with challenging slopes. With a standard 10S4P 7 Ah battery, you can expect a range of up to 12 miles, which can vary based on road conditions and load. Charging is also convenient, requiring only 3-4 hours to get back to full power.
Each Cloud Wheel Carbon G3 comes complete with a skateboard, charger, remote control, and a T-type tool, so you're fully equipped right from the start. Though it's not app-enabled, the board comes with an IP55 rating, ensuring it's dust and water-resistant to a certain extent.
Raldey Cloud Wheel Carbon G3 is the perfect blend of style, performance, and affordability. Get yours today and experience the future of urban commuting!