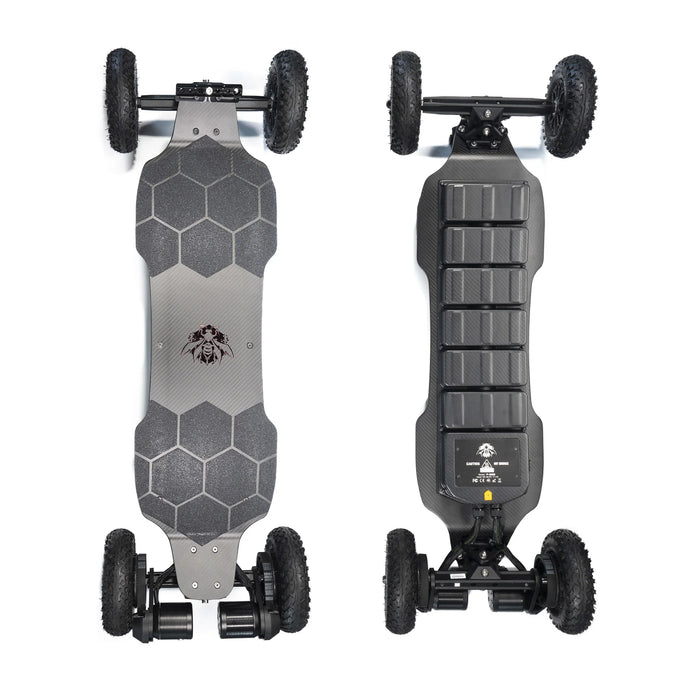 Raldey WASP Pro Electric Mountainboard - Electric Skateboard and Longboard
Save

22

%
Save

22

%
Original price
$ 2,299.00
Original price
$ 2,299.00
-
Original price
$ 2,299.00
Original price
$ 2,299.00
Raldey WASP Pro Electric Skateboard: Unleash the Speed Demon
🔥 Unmatched Speed: Reach breakneck speeds of up to 39 MPH (62 km/h) to satisfy your need for speed.
🌲 Elite Deck Material: Built with a 3K Carbon Fiber Deck, this board offers the ultimate in strength and lightweight performance.
⚡ Exceptional Power: Belt-driven motor system that can push the board to its speed limit while carrying up to 485 lbs.
🏔️ Steep Climb Capability: With a 40% hill climb rate, say goodbye to limitations.
Unveiling the game-changer in electric skateboarding— the Raldey WASP Pro. Crafted for the adrenaline junkies, the WASP Pro is not just a skateboard; it's a speed demon on wheels. Engineered to perfection in China, this all-terrain monster lets you breach the limits of conventional skateboarding.
At the core of this beast is its 3K Carbon Fiber Deck, balancing strength and lightweight performance impeccably. The 46" long deck ensures ample room for a comfortable stance, even during the most extreme rides. The 8in / 200mm inflatable wheels promise a balanced and smooth ride, making it ideal for any terrain.
Control has never been so smooth, thanks to its 12-inch CNC Forged Trucks, adding an extra layer of maneuverability and stability. The regenerative braking system offers a safer descent while conserving energy. And when it comes to what's included, the WASP Pro has you covered with a handle included right in the box.
With its standard 12S6P 24 Ah battery, the board offers an impressive range of up to 43 miles, depending on various conditions. Charge it up in just 69 minutes, and you're good to go for another thrilling ride. Despite its robust features, the board weighs just 19 kg, making it easily portable.
While it's packed with features, it's essential to note that the WASP Pro is IP65 rated, offering substantial protection against water and dust. Finally, experience seamless control with its state-of-the-art ESC and remote system, although the board is not app-enabled.
So why hold back? Take your skateboarding to the next level with the Raldey WASP Pro, available now for $1,799.00. Let the speed demon in you come alive!